The iPhone 5, Apple's next-gen smartphone, could have a curved glass display similar to Samsung's Nexus S, according to the latest supply chain rumors from DigiTimes. In support of this theory, Apple reportedly purchased around 300 glass-cutting machines to ramp up production ahead of an expected iPhone 5 release later this year.

A curved glass display on the iPhone 5 would mean that Apple is actually going for a full-on redesign of the iPhone, unlike recent speculation we've heard earlier this month about an incremental update — more like an iPhone 4S. It's also unclear whether the supposed curved display of the iPhone 5 would be hollowed inward, like on the Samsung Nexus S, or convex, as with the Dell Venue smartphone.
The previous generation iPod Nano also had a curved glass display (but no touchscreen), while the Nexus S was the first mainstream smartphone to use a curved screen, which is meant to make the phone fit more comfortably next to your f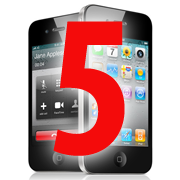 ace.
To produce the curved glass covers and improve yield rates, Apple is now reportedly working with suppliers of cover glass, glass cutting, lamination, and touch sensors. As for the 200 to 300 extra glass-cutting machines Apple purchased, Digitimes' sources say they will be used when demand for the screens increases with production.
If Apple is still working on sourcing the parts for the iPhone 5, this supports reports that the new device won't arrive this summer, but closer to the holiday 2011 shopping season. Other expected improvements in the new iPhone are a dual-core A5 chip, more RAM, and an 8-megapixel camera.
Follow Daniel Ionescu and Today @ PCWorld on Twitter