Gone are the days when running a small business meant outfitting each worker with a desktop PC, then loading up each one with individually licensed software. Thanks to services that live on the Internet, there's a swifter way to empower workers with productivity and communication tools.
Google and Microsoft are the major players in so-called "cloud" suites designed for a mobile, always-online workforce. The flexibility, portability, and low maintenance of their services appeal to a growing number of small businesses. In a best-case scenario, either Google Apps for Business or Microsoft Office 365 can improve productivity and reduce such costs as software licenses and paid IT help. Both packages include e-mail, calendars, live chat, word processing, spreadsheets, presentations, collaborative editing, and much more.
Google Apps for Business is a paid suite–an expansion of the lineup found in the free Google Apps for consumers. Office 365, by contrast, builds on Microsoft's Business Online Professional Services (BPOS). But it also has a desktop component in the Office 2010 suite. Office 365 opened for public beta testing in April, with a final release set for later this year, while the full Google Apps is available now. Here's a comparison of the features and pricing of Google Apps for Business and Microsoft Office 365.
Some 3 million businesses use Google Apps–which includes "millions" of Apps for Business paid users. Google doesn't share a breakdown about how many customers are smaller companies. Microsoft counts "millions" of BPOS customers and hundreds of millions of desktop Office users. More than 100,000 organizations are testing Office 365.
Companies that use Google Apps enjoy more than a 300 percent return on investment (ROI), at least according to a November Forrester report sponsored by Google. And productivity gains enabled by features such as swift e-mail searches lead to even greater savings. Microsoft Office 365 also promises impressive ROI for small companies.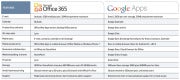 Although Google appears to be ahead in this strictly online race so far, the competition is just heating up, and there's no clear winner; businesses can choose the option that best fits their needs. However, in the small-business case study below, Google Apps was the right choice for moving away from a mix of Microsoft Office and other tools.
Serious considerations remain before your company abandons local apps and physical servers for the cloud. But for many organizations, Web services win out for convenience and mobility.
Case Study: Contractors Improve Mobility, Customer Contact with Google Apps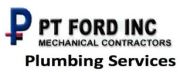 The small, busy staff of PT Ford plumbing contractors in Temple Hills, Maryland, can't waste time worrying about fixing computers. But its handful of workers were grappling with chronic PC viruses and an unreliable POP3 e-mail system, and couldn't reach customers easily via mobile phones. The cluttered Website was hard to update, with no simple option to take customer requests.
The owner was tired of paying close to $500 each month for Verizon and Vonage VoIP services, and didn't want to fork out more money for new Microsoft Office licenses. In addition, a third-party IT professional charged $75 per month for support, and $100 per hour for on-site help. A $3000 bill for fixing PC problems motivated PT Ford to try something new.
The Solution
The plumbing contractor called Migration King in nearby Silver Spring, an IT firm that specializes in moving small businesses to cloud services such as Google Apps. Owner Shea Bennett aimed to save his client hundreds of dollars each month in tech expenses. He also wanted PT Ford to enjoy a self-sustaining system that would need support only in a case of hardware failure.
"You're talking about changing the entire infrastructure of the company, how they've done their business for five or six years," he says of his assignment.

To that end, Bennett signed PT Ford's handful of users onto the $50-per-user-per-year Google Apps for Business suite. This replaced the POP3 GoDaddy e-mail system that fed into Outlook with Gmail. He moved Microsoft Office documents on workers' laptops to Google's servers.
He dropped Vonage service in favor of Google Voice, which routes calls to multiple cell and desk phones. Staff now can access e-mail and edit documents on their iPhones.
PT Ford's Website moved from a costly, hosted Web server to Google Sites, which offers easier editing. Now employees can field customer requests through a Contact Us form on the site. And Bennett set up the Freshbooks online invoicing and billing service from the third-party Google Apps Marketplace. Migration King also convinced PT Ford to drop Microsoft Internet Explorer for the Google Chrome browser.
The Outcome
Collaborative editing in Google Docs lets the plumbers record and respond to service requests in real time. If they're on the road looking for a customer, they can tap a Google document on a smartphone for the address.
The tech makeover also eliminated both Outlook e-mail PST problems and viruses that weren't caught by Norton 360. That in turn reduced the costs of paying for third-party IT support when problems cropped up. Bennett moved the company to MIcrosoft Security Essentials, free for up to 10 PCs.
The migration took less than a week and cost $1000. Moving seven years of e-mail to Gmail took only several hours. So, how does a move to Google Apps not put IT pros like Bennett out of business?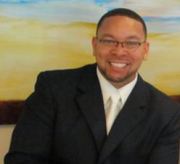 "Reselling Google products requires engineers to have a broader knowledge of various technologies," he says. "You have to know multiple technologies from multiple vendors. People come back because they trust you."
Although the migration was quick and inexpensive, PT Ford continues to call Bennett for other high-level needs, such as setting up a cloud-hosted payroll system.
–Case study submitted by Migration King
Shea Bennett is a U.S. Navy veteran and small business owner with over ten years of IT experience in senior-level Windows systems administration, virtualization, project management, teaching, and education. His certifications include VMware (VCP), Microsoft (MCSE, MCSA, MCDBA, MCP), CompTIA Linux+, and Cisco CCNA. Bennett holds a Masters in Educational and Instructional Technology, and a Bachelors in IT Management from National University, San Diego. You can reach Migration King online and at 202-503-9531.