Back in the stone-knives-and-bearskin days of 2005, I wrote about the rise of camera phones: "Will we soon take all of our pictures with a camera phone? Probably not." Shows what I know. In just six years, camera phones have evolved from taking pictures that looked sort of like Gauguin paintings to snapping sharp, high-quality photos–and in the process, have become practically ubiquitous lifestyle companions. Everyone, it seems, snaps photos for Facebook, Flickr, and e-mail with their mobile phone. The phone in your mobile phone is not yet the equal of a digital SLR, so you still need to take special care to take great pictures this way (check out my tips for better cell phone photos), but it's amazing how good your results can be. And you can do things with a mobile phone that are difficult or impossible to do with a traditional camera. Case in point: this week, here are five awesome iPhone apps designed for photographers.
Photosynth (Free)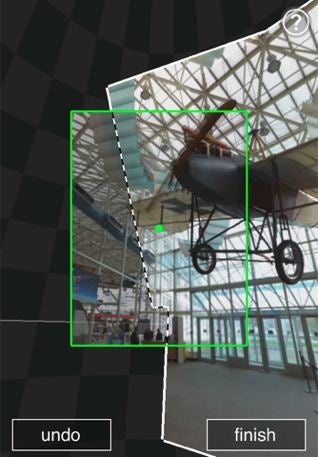 First up is the coolest app of them all. Microsoft recently released Photosynth for the iPhone, an app that lets you create "synths" using just your phone. In a nutshell, Photosynth takes a collection of photos taken around the same location and, sort of like a traditional panoramic program, stitches them into a coherent scene. A Photosynth image can be 360 degrees and interactive, though–you can pivot around the scene from the point of view of the photographer, looking up and down and all around, and zoom in for a better view.
Microsoft's Photosynth for the iPhone delivers all that in the palm of your hand. The app lets you take a slew of photos and then stitch them together. You can take just a few shots or diligently fill in every corner of your surroundings. Photosynth shows you what regions are captured and where the gaps in your scene are even as you shoot. When you're done, it takes a few moments to process, and then you can interact with your synth on your iPhone or upload it Microsoft's Photosynth site to share your handiwork. It's all free–and it feels a little like science fiction.
Photoshop Express (Free)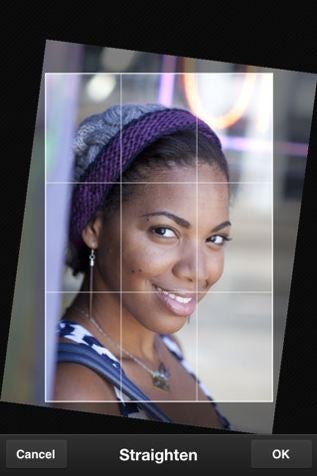 When Adobe first released Photoshop Express for the iPhone, I thought it was a bit of a curiosity–a fun diversion, but not especially practical or useful. These days, Photoshop Express makes it possible to clean up your iPhone photos in a meaningful way. Of course, Photoshop Express doesn't include any of the goodies you'll find in CS5 or even Photoshop Elements–there's no support for layers, masking, background removal, or those sorts of things. Then again, what do you expect? This app is running on a phone.
What you will find are all the essential basic photo editing tools, smartly implemented in a way that makes sense on a phone's touch screen. There are ways to crop, straighten, rotate, and flip a photo. You can change characteristics like exposure, saturation, and tint by sliding your finger across the screen until you see what you like. There are some special effects like soft focus and sketch mode. There's even an in-app upsell: Buy the Adobe Camera Pack for $2 to get extra features like a noise reduction filter and self-timer for taking photos.
Dropbox (Free)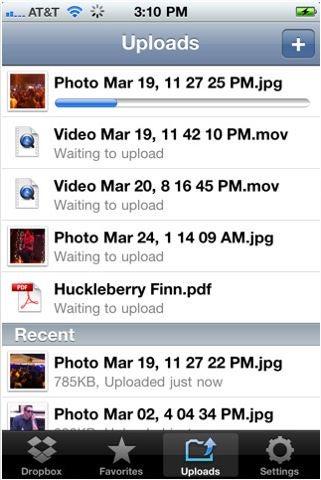 I am a huge fan of Dropbox–it's an online storage service that lets you put your files in the cloud. You get 2GB of space for free, and there are paid subscriptions for additional space. But there are also a slew of ways to get more space for free, such as referring others to the service and promoting it on Facebook or Twitter. I have more than 4GB of space available for free.
Dropbox has an iPhone app, and it's got a great feature tailored just for photographers. Start the app and go to the Uploads tab, where you can send multiple photos from your camera roll directly to any folder in your Dropbox account. Once you start the upload, it continues in the background while you go off and do other things. In the past, you could move photos to Dropbox (or other cloud storage solutions) only one photo at a time, so this is a great way to back up your iPhone photos or share them quickly with another PC that shares your Dropbox account.
Color Splash ($2)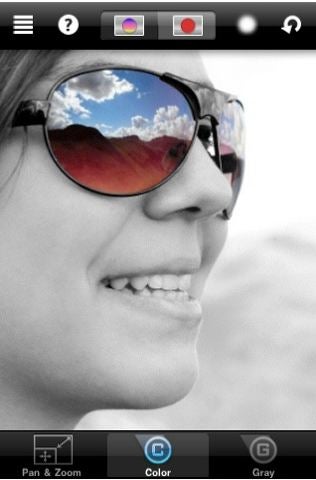 Everyone, it seems, loves photos with selective color. I've explained how to do this effect in a PC-based image editor–convert your photo to black and white, except for some element in the image which you leave in full color. Well, you no longer need Adobe Photoshop (or some similar program) and a working knowledge of layers, because now Color Splash can do it for you more or less automatically.
Color Splash is a fun little app. For $2, you paint with your finger to erase the color from your photo or selectively bring the color back. After using Color Splash to remove the color from a few of your photos, you'll probably wish your desktop photo editor worked this easily.
Instagram (Free)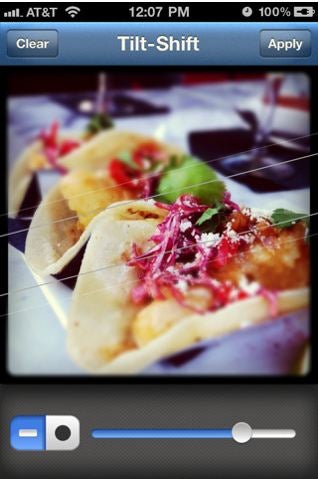 Finally, there's Instagram. This app appears to be crazy popular–no fewer than three of my friends mentioned it to me this week alone. Like peanut butter and chocolate, Instagram combines two things people like: photo effects and sharing. The app lets you apply a dozen vintage-looking photography and novelty visual effects to your images, then post them to Twitter, Facebook, Flickr, and a handful of other online destinations. Best of all, it's free.
Hot Pic of the Week
Get published, get famous! Each week, we select our favorite reader-submitted photo based on creativity, originality, and technique.
Here's how to enter: Send us your photograph in JPEG format, at a resolution no higher than 640 by 480 pixels. Entries at higher resolutions will be immediately disqualified. If necessary, use an image editing program to reduce the file size of your image before e-mailing it to us. Include the title of your photo along with a short description and how you photographed it. Don't forget to send your name, e-mail address, and postal address. Before entering, please read the full description of the contest rules and regulations.
This week's Hot Pic: "Night Heron" by Marite B. Smith, Virginia Beach, Virginia
Marite writes: "The wind blew just in time to add some blowing snow as I snapped away with my Nikon D80 on Lake Joyce in Virginia Beach."
This week's runner-up: "Serenity for All" by Julie Flueck, Calgary, Alberta
Julie says: "I took this beautiful picture at the Calgary Zoo. There is an indoor flower garden there with hundreds of butterflies and all sorts of plant life and vegetation. I took this with my Kodak Easy Share 8-megapixel camera on the normal outdoor setting."
To see last month's winners, visit our April Hot Pics slide show. Visit the Hot Pics Flickr gallery to browse past winners.
Have a digital photo question? E-mail me your comments, questions, and suggestions about the newsletter itself. And be sure to sign up to have Digital Focus e-mailed to you each week.