Tuesday morning, Microsoft took the wraps off "Mango," an update to its Windows Phone 7 platform that includes more than 500 new features designed to improve multitasking, offer more dynamic information and make apps and the OS work together more efficiently.
[Slideshow: Windows Phone 7 Mango: A Visual Tour of the New Features]
The good news is that the update will be free for all Windows Phone 7 customers. The bad news is that owners will have to wait until the fall to receive it. In addition to a slew of new features, Microsoft also announced new hardware partners including Acer, Fujitsu and ZTE. Microsoft has once again chosen Qualcomm's Snapdragon processor to power the next generation of Windows Phones.
What Microsoft showed today is only just beginning for Mango; the company will be revealing even more new features.
In Video: Windows Phone 'Mango' Adds Apps, IE9, and Fast Browsing
Smarter Phone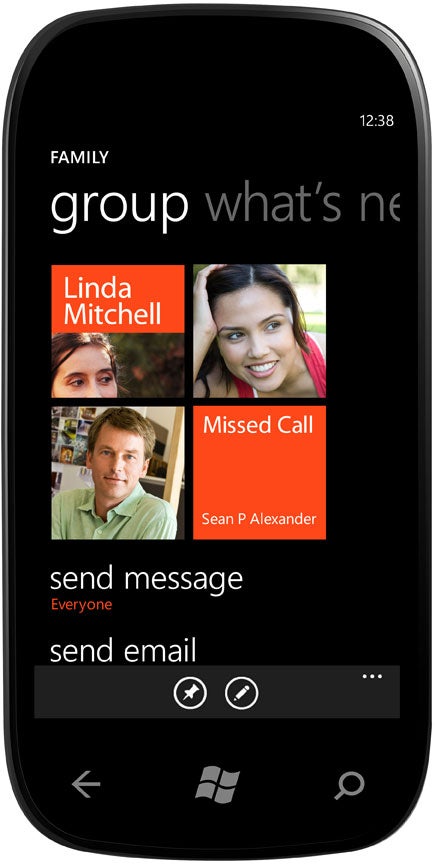 Mango essentially takes the features we liked about Windows Phone 7 and makes them even better. Live Tiles, those dynamic widgets you can customize and rearrange on your homescreen, will have more real-time information. You'll also be able to make personalized live tiles for either individual friends or a group for your homescreen. If you want to keep an eye on your partner or track what your boss is doing, you can pin that contact to your screen and see what they're writing on Facebook at-a-glance.
Multitasking is improved. You'll be able to quickly switch among recently used applications by pressing and holding the back button. And, as Microsoft announced in April, multitasking will be extended to third-party apps and Internet Explorer 9 when Mango launches.
All of the Hubs will be enhanced with some sweet new features. For example, the People Hub will connect Facebook, Twitter, Outlook, LinkedIn and Windows Live messenger in one place so you have multiple avenues to communicate with your friends and colleagues. You'll also be able to group and categorize your contacts based on how you know them-friends, coworkers, enemies, etc.
Smarter Apps
One of features Microsoft is hoping will differentiate Windows Phone 7 from iOS and Android is its approach to apps. A new feature called App Connect will connect apps to search results in Bing. Apps on other platforms are like silos and don't interact with other aspects of your phone, Microsoft said. App Connect will incorporate the information from your apps-whether it is a music app or a weather app-seamlessly into Search. Microsoft calls this the "total app experience." So for example, if you're searching for a movie, App Connect will integrate ticket purchasing information from Fandango along with your standard search results for movie times, reviews, trailers, etc.
Better for Browsing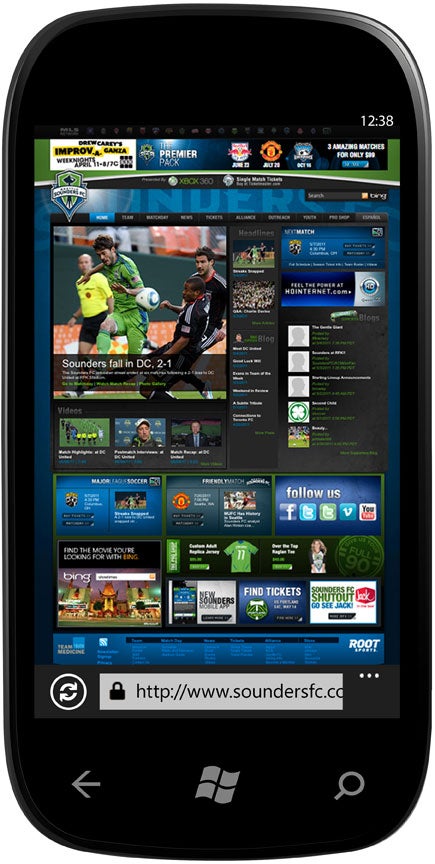 Microsoft is playing a bit of catch up by adding hardware-accelerated graphics and HTML5 to the mobile version of Internet Explorer 9, but we're happy to see this update. Furthermore, at least from the demos shown today, the Bing integration looks really nice. A few new features that make browsing that much easier include something called Local Scout, which uses GPS to recognize where you are and then provides you with hyper-local search results based on your preferences. Another neat feature is Music search. Sort of like Shazaam, you can simply hold your phone up to a speaker and Bing will identify the track that's playing and give you information about the artist, song and where to buy it. Pretty cool.
Visual search is sort of like Google Goggles, built right into the Windows Phone platform. Say you're in a bookstore, see a book, and want to know more about it. You can take a picture of a book cover and Bing will not only search for reviews, prices and more information about the book, but will also show information from your apps, using App Connect. So for example, if you have the Amazon app installed on your phone, you'll be able to purchase the book (if the price is better than your local bookstore) just from snapping that photo.
Microsoft is also diving into augmented reality by providing new motion and camera APIs to developers. For example, The History Channel is building the new History Here app, which combines AR, GPS and The History Channel's content. If you're traveling or just exploring your own neighborhood, you can point your phone at your surroundings and the app will display an overlay of historic landmarks nearby.
Better for Business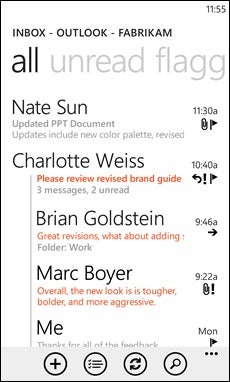 Microsoft is aiming to make Windows Phone the phone for business customers. The company unveiled Windows Phone 7's new productivity features last week at the TechEd conference in Atlanta. For example, Windows Phone 7 owners will be able to save and share Office documents through Office 365 and Windows Live SkyDrive, ensuring you have access to the latest documents when and where you need them.
In Mango, you'll be able to pin an e-mail folder to your start screen for quick access. For example, you can pin a specific folder for a project or from a specific group or person. You can also pin an RSS feed from Outlook. Emails will be organized by conversation, so replies to a thread will be a consolidated into a single view you can more easily follow.
Business users will appreciate the ability to search e-mail servers, like the Exchange Server, for older emails no longer stored on your phone. And finally, Microsoft Lync, the business communication service that combines IM, web conferencing and an internal social network, will now be available to Windows Phone customers via the free Lync Mobile app.
In addition to the new productivity features, Mango will also deliver some new features for IT professionals. Users will have access to complex (alpha-numeric) password support, Information Rights Management support for protecting e-mails and Office documents, and support for access to hidden corporate Wi-Fi networks.
Video: Mango Adds Apps, IE9, and Faster Browsing
Is Mango enough to make Microsoft standout from the legions of Android phones and the iPhone? Windows Phone owners: Are you excited about this update? Sound off in the comments and stay tuned for more Mango coverage today and in the coming weeks.