The acquisition of Kaviza, a maker of simple desktop virtualization software for small businesses, by Citrix Systems is all the buzz at this week's Citrix Synergy event at San Francisco's Moscone Center West.
The fact that an SMB-focused product like Kaviza is stealing the thunder at a traditionally enterprise-focused show like Synergy shows just how far virtual desktop infrastructure (VDI) and other desktop virtualization technologies have come when it comes to the small business market.
Changing Dynamics
In the not-too-distant past, desktop virtualization was largely the realm of big business. It was typically a technology run from within the data center, requiring beefy server technologies with extensive and expensive networked storage to serve up users' desktop environments over the corporate network.

Kaviza's flagship VDI-in-a-Box technology aims to take out some of that complexity – letting users run virtual desktop from "any standard, off-the-shelf" x86-based server, company officials say. It's also designed to be installed, maintained and supported by "desktop IT staff," as opposed to more specialized IT staff. The technology allows companies to choose their hypervisor, including Citrix's XenServer or rivals VMware ESX or Microsoft Hyper-V, although one would imagine once Kaviza is fully integrated into Citrix, the system will be "optimized" for best performance with its new owner's wares.
In discussing the Kaviza purchase, Citrix's Tom Flink, who heads up the company's channel partner community and market development, said, "there's been a segment that we haven't addressed with purpose-built product in SMB."
But that's about to change, as more and more options for desktop virtualization come on-line for small businesses.
Why VDI?
One of the reasons more SMBs might consider desktop virtualization right now is the growing trend towards "bring your own device." Companies are increasingly allowing their users to bring their own computer or other device to work on. Or, more honestly put, more companies are bowing to user pressure to be allowed to work on the devices they know and love.
By using a technology like Citrix's Receiver or VMware's View, companies can make all of their user's business applications available on their own device while all the data remains safe and sound under central management.
And because both vendors offer versions of their virtual desktop software on a variety of smartphones, tablets and other smart devices, it offers a path for road warriors to connect on their preferred device while on the go. In fact, when it launched last year, the ability to run a Windows 7 desktop on the iPad was touted as one of the "killer apps" for the tablet computer, at least in the business world.
The technology has come a long way from the clunky remote desktop capabilities of days of old. Both major desktop virtualization players (Citrix and VMware) now tout the ability to run smooth high-definition videos and other multimedia-heavy applications from hosted desktops on a variety of devices.
On-premise vs. Cloud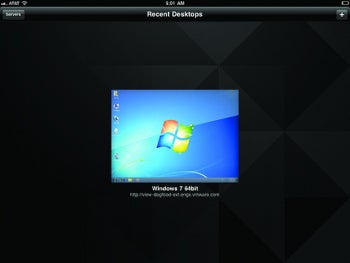 Like most IT issues today, there are choices in how small businesses want to consume virtual desktops. Citrix and Kaviza offer a more traditional "on-premise" model for desktop virtualization, while there are a growing number of options for cloud-based virtual desktops. Also at Synergy, hosting giant Rackspace announced plans to offer a simplified path to desktop virtualization via hosted Citrix virtual desktops.
Putting any IT workload in the cloud is a very individual, even personal issue, for many businesses. Like anything else, you have to consider cost, scalability, availability and security of cloud deployments against on-premise, as well as your own organization's needs and work patterns to make the right decision. For example, if you're looking at VDI to keep your users connected to their desktops while they're out of the office, a hosted solution might offer greater value than on-premise, while companies in a highly-regulated industry like healthcare or a highly-secretive one like financial services might prefer to leave things in-house.
There are even some solutions that cross the boundaries of on-premise and cloud. IBM earlier this year introduced its Virtual Desktop for Smart Business solution, which can be offered by Big Blue's channel partners either hosted by the partner or on a customer's own hardware.
Is It For You?
There are still too many "X" factors–such as how mobile your business is, how connected your users are, how much computing horsepower your users need to do the job, and more–to offer one-size-fits-all advice on whether desktop virtualization makes sense for your business.
But it is clear that that are an increasing number of choices for small businesses that may want to consider virtual desktops, and that the options are only going to improve as software vendors look to the SMB as a potentially huge greenfield market for their wares.
Robert Dutt is a veteran IT journalist and blogger. He covers the Canadian IT technology solution provider scene daily at ChannelBuzz.ca. You can also find him on Twitter.