At a Glance
Expert's Rating
Pros
Flexible audio setup
Superior gaming performance
Cons
Limited battery life
Heavy for its class
Our Verdict
Maingear ships a heavy, but attractive, 15-inch gaming notebook with superb performance in leading-edge games.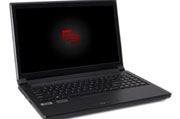 Building high-performance gaming components into a 15-inch laptop chassis is an exercise in compromise. What you get is a little less bulk than a 17-inch desktop replacement and equivalent performance. But those high-performance components require robust cooling and a greater amount of internal volume, which translates into more size and weight.
Maingear tries to locate the right balance between bulk and performance in its EX-L 15 laptop, and for the most part it succeeds. The company makes few compromises on the performance side, building in a second-generation Intel Core i7 2720QM CPU and Nvidia GeForce GTX 485M mobile graphics. Toss in a true 1080p display, strong audio support, and a plethora of ports, and the EX-L 15 seems like a dream machine.
In overall appearance it resembles other laptops churned out of Asian factories, but Maingear has added a matte rubberized texture to the exterior and to the keyboard tray. This design decision makes the laptop much easier to handle and carry around, and it slightly reduces the mass-produced appearance.
The EX-L 15 has four USB ports, two of which are USB 3.0, as well as gigabit ethernet, four4-pin FireWire, DVI, HDMI and eSATA connectors. Audio support is quite good, with digital optical output and the ability to wire in a 7.1-channel analog PC speaker set.
Dream machines, however, tend to be expensive. As tested, our Maingear EX-L 15 shipped with 8GB of RAM and a standard DVD recordable drive. That, plus the quad core CPU, the 500GB Seagate hybrid hard drive, and the Nvidia GPU contribute to the imposing overall price of $2455.
For your nearly $2500, you get superb gaming performance. Far Cry 2 delivered a staggering 111 frames per second in optimal mode (DX10, without antialiasing). More-demanding games such as Just Cause 2 and Metro 2033 managed frame rates in the mid-30s, at the highest viewing level (but with antialiasing off). The Formula One racing game F1 2010 even reached the mid-30s with 4X antialiasing enabled. The weakest performance we saw was with Shogun 2, which managed 21 fps with antialiasing on; but you could probably get good frame rates on that game, too, with some relatively minor tweaks.
What all this graphics goodness needs most is better video playback. DVD upscaling quality was mediocre, with visible noise, edge enhancement, and loss of detail when scaling up DVDs inside Windows Media Player (Maingear didn't included dedicated DVD playback software). WMV HD playback, on the other hand, looked superb, so investing an additional $145 in a Blu-ray drive might be worthwhile. Vertical viewing angles were relatively poor, but horizontal viewing angles seemed reasonably good for a unit of this class.
Audio quality was more powerful once we activated the included THX TruStudio audio enhancement software. Without it, the EX-L 15's speakers sounded harsh and unpleasant. With TruStudio turned on, the overall music playback quality was much more enjoyable and neutral sounding.
Battery life is relatively short, at a little under 3 hours. The GTX 485M doesn't support Nvidia's Optimus technology, so you can't run on the integrated Sandy Bridge iGPU. On the other hand, this isn't a laptop designed for users who want to pop it open on an airplane flight to watch movies on. Instead it was bred for games, and for environments where wall power is nearby.
At nearly 7 pounds without the power brick, the laptop's weight is reasonable, though a little hefty, for a high-performance gaming unit. The 180W power brick boosts the weight to a backache-inducing 9 pounds, 3 ounces. But if you're looking for great gaming performance, don't mind carrying a little more weight, and have deep pockets, Maingear's EX-L 15 gets the job done.