Since introducing Windows Phone 7 at the Mobile World Congress more than a year ago, it has almost seemed as if Microsoft had turned away from its core customers–namely, business users–but this week's announcement by CEO Steve Ballmer proves the software giant is still very much in the business of business operating systems.
The company is looking to regain lost market share, which according to Gartner has fallen to 3.6 percent of the total smartphone market. Speaking to ZDNet UK, Microsoft product manager Paul Bryan said the goal for Microsoft was to "attract the third of smartphone users who say they haven't decided what their next phone will be after iPhone, Android or BlackBerry."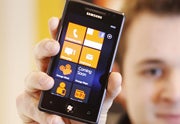 That could be a tall order, but in fact, Microsoft's "Mango" Windows Phone 7.5 update could be very sweet for business users if Microsoft can deliver on all its promises.
Ballmer said the OS update would bring more than 500 new features, and that up to nine new WP7 devices from HTC, Acer, Dell, and Samsung will roll out by the end of the year. (Check out a closer look at the new features from Ginny Mies.)
The handset OS will include more social networking integration, and allow users to import Twitter and LinkedIn contacts (Facebook contacts could already be imported). With Mango, users can create groups of contacts represented on tiles on the screen, where they can see status updates and quickly connect with the contacts via text message, e-mail, or IM.
The new update will revamp the search functionality, and users will have several new ways to use Bing. The mobile search engine will support visual search using the phone's camera, voice search, or even a local search via Local Scout, which based on a user's location can recommend nearby restaurants, shopping, and activities.
Users will also get a new version of Internet Explorer 9 Mobile, while Mango will also offer support for the subscription-based Office 365 and SkyDrive, Microsoft's cloud storage tool, in the Office Hub, which will provide Office document synchronization. Hopefully Microsoft will resolve its Exchange Online issues by the time Mango arrives.
And Mango will offer information rights management (IRM) for improved protection of e-mail and documents, while adding alphanumeric PIN support to make for more complex password support– likely good news for IT departments worried about lost or stolen devices. Windows Phone 7.5 will further be able to access hidden corporate SSID Wi-Fi networks, without the need of an app to uncover the access points.
The handset update will also address one of the big criticisms, namely the lack of apps available. Currently there are 17,000 apps in Mircosoft's Windows Phone Marketplace, and that number will likely increase in time for Mango's arrival later this year.
Peter Suciu writes about technology trends for small business, but has an appreciation for the Victorian Age when the telegraph was the information superhighway. After living in New York City for 18 years, he now resides in more rural Michigan.