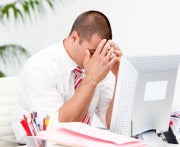 What did we do before the Internet? We barely remember, but we think it had something to do with our jobs. Unless you work on a farm or in a coal mine, chances are that your job affords you constant access to Facebook, Twitter, Cute Overload, Fail Blog, and a zillion other productivity-destroying indulgences.
Even if you do possess the self-control to resist obvious online time wasters, there are enough distractions built right into your e-mail, IM, and other collaboration tools to break your concentration a hundred times an hour.
Fight back! When you need to buckle down and knock out some important work, these focus enhancers will help keep you on the job and improve your productivity.
Silence Your E-Mail
For most of us, the e-mail inbox is the biggest tech distraction we face each day. Like Pavlovian puppies, we reflexively click it whenever the new-mail notifier chimes. But we needn't let that leash jerk us around. Unless your job explicitly demands that you respond instantaneously to every single missive that lights upon your inbox, bring your e-mail to heel by reducing the frequency with which it polls for new messages or by silencing the alerts.
Outlook users can silence new-mail alerts by clicking Tools, Options, and E-mail Options, then clicking Advanced E-mail Options. In this menu, you can uncheck as many of the alerts as you want, choosing to disable only the chime, or eliminating all signs that a message has come in.
For Gmail users, the most distracting feature (unless you have some kind of notifier installed) is the unread count indicator that appears in the browser tab. The easiest way to deal with this is to simply close the Gmail tab when you're not actively checking mail.
To reduce distractions even more in Gmail, try the Smart Mute feature under the Labs tab in Gmail Settings. This cool little add-on lets you "mute" message threads that you're cc'd on, so you don't have to waste any of your attention on an endless debate between two coworkers about trivial details of an upcoming project you're not even working on.
Declutter Windows
Those of us old enough to remember DOS as a part of daily work life occasionally pine for the days when a PC could run only one app at a time. Sorry, boss, I didn't see your e-mail because I was busy working on that spreadsheet you wanted. Ah, the good ol' days…
While we wouldn't really want to step back into the Stone Age, we do occasionally like to recapture the clutter-free feeling of the old-school desktop. You can do this manually by maximizing the current window, but that's not always the most comfortable way to work in your favorite app.
To automatically darken out all but the active window, try JediConcentrate, a simple little tool from Dana Hanna's An App A Day project. Once launched, you can toggle the tool on and off by hitting the F12 key. It was originally designed for Windows XP, but still works great in Windows 7.
Another simple app that accomplishes a similar goal is MinimOther. It works on the same principle as JediConcentrate, except that instead of darkening everything but the current window, it minimizes all windows except for the one currently in use.
Distraction-Free Word Processor
When you just need to stop goofing off and get some writing done, a distraction-free word processor can save your sanity. My favorite distraction-free writing app is OmmWriter, which is now available for Windows. In addition to blocking system notifications and your entire taskbar from view, OmmWriter also includes some cool white-noise soundscapes, such as Zen wind chimes, to enhance your focus.
Browse Full-Screen
Sometimes the Web isn't a distraction at all, and it's the rest of the apps on your PC that you need to ignore. Fortunately, most modern browsers include a full-screen mode that can push all your other windows out of sight and fill your entire display with only the contents of the current browser tab. This mode is excellent for reading lengthy news articles or other content that requires your full attention. In Firefox Internet Explorer, and Google Chrome, simply press the F11 key to toggle full-screen mode.
Time Yourself
We know how it is: You've got a mountain of work to do, but you just can't imagine going eight whole hours without taking a peek at Facebook. So how about a compromise? Work 25 minutes straight without interruption, take a quick break to relax your brain and catch up with your social life, then dive back in for another 25-minute distraction-free work session.

This approach, known as the Pomodoro Technique, is actually a popular productivity system in its own right. All you need is a good timer, such as Focus Booster for Adobe Air. If you'd rather have a customizable timer, try the no-frills SnapTimer for Windows.
Want more tips to keep your work life on track? Read PCWorld's Simply Business blog .