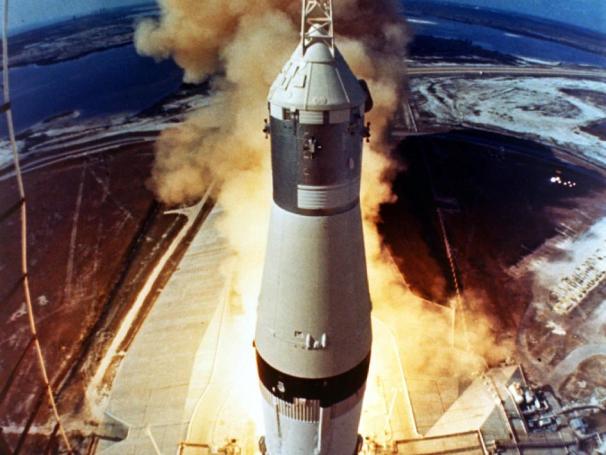 In what is possibly the greatest move since the end of the Apollo Program, NASA has decided to bring back the capsule-like spacecraft, similar to what was used in the Apollo, Mercury, and Gemini programs. Someday in the near future you may be able to go to the Pacific to see a manned-capsule returning to Earth as it's hurling through the Earth's atmosphere at break-neck speeds, then see the chutes pop open, and the craft land gently in the water.
Earlier this week, NASA announced that it plans to send astronauts on deep space missions for durations of 21 days. The new system, called the Multi-Purpose Crew Vehicle (MPCV), will be based on the designs originally planned for the Orion Crew Exploration Vehicle under the cancelled Constellation Program. According to NASA, the spacecraft will have a pressurized volume of 690 cubic feet (316 of it habitable space) and it will be 10 times safer during ascent and reentry than the about-to-be-retired shuttle. MPCV is being designed with the help of Lockheed Martin Corporation.
In addition to deep-space missions the MPCV will be capable of regular orbital in-space operations including space walks, payload deliveries to other spacecraft, and so on. The MPCV will also be a capable backup system for delivering crew and cargo from and to the ISS.
There's no word on what launch vehicle NASA plans to use, but it could end up being either the Delta IV or Atlas V rockets. Since the MPCV is being designed based on the of the Orion project (which sought to develop a successor to the Space Shuttle program), there is a good chance that NASA will use the Delta IV. Lockheed had expressed in the past that they want to launch the Orion capsule with a Delta IV Heavy rocket. But at the very least, the launch will still be spectacular and might even rival that of the Saturn V. To learn more about the possible launch articles
NASA's current director and ex-astronaut Charles Bolden, says, "We are committed to human exploration beyond low-Earth orbit and look forward to developing the next generation of systems to take us there." Bolden also says that, by passing transportation duties to the ISS off to the private sector, NASA will be able to focus on space exploration. It's about time!
This new approach is not a traditional one for NASA. Douglas Cooke, associate administrator for NASA's Exploration Systems Mission Directorate in Washington, says that "this selection does not indicate a business as usual mentality for NASA programs […] The Orion government and industry team has shown exceptional creativity in finding ways to keep costs down through management techniques, technical solutions and innovation."
No, it may not be the traditional route but it's what everyone has always wanted to see and study–deep space.
[NASA]
Follow James Mulroy on Twitter and on StumbleUpon to get the latest in microbe, dinosaur, and death ray news.
Like this? You might also enjoy…
Get your GeekTech on: Twitter – Facebook – RSS | Tip us off
Note: When you purchase something after clicking links in our articles, we may earn a small commission. Read our affiliate link policy for more details.