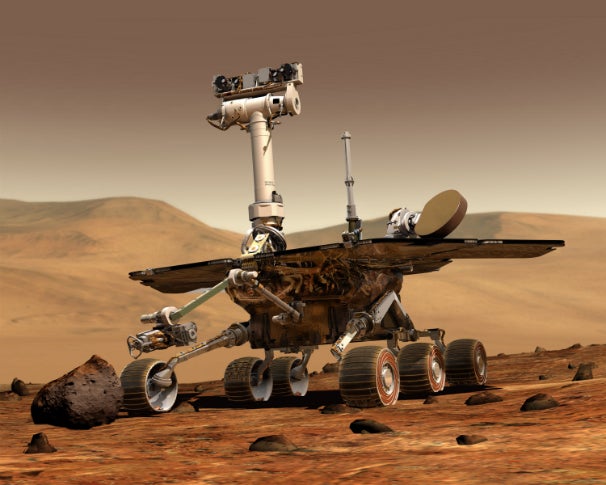 NASA is ending attempts to contact the long-lived Mars Exploration Rover Spirit after communications stopped on March 22, 2010.
For the past 10 months, NASA has been pinging the rover hopes that the Spirit might reawaken after the harsh Martian winter it endured. Engineers speculated that the winter is what did the rover in, as Spirit lacked enough power to run its survival heaters, which ultimately left its critical components and connections vulnerable to damage from the cold.
But let's remember Sprit for its feats since it reached the planet side with its brother, Opportunity, in January 2004. The Spirit Rover completed a successful 6-year mission; when it was only expected have an operational lifespan of 3 months. In that time Spirit has driven 4.8 miles across the Martian landscape, taken the first highest resolution color images on another planet, and was first to grind rocks on Mars.
Spirit is survived by its Opportunity, who is still functional on Mars. NASA will be launching its new Mars Science Laboratory mission, the Mars rover Curiosity, in November.
[NASA via Jet Propulsion Laboratory and Space]
Like this? You might also enjoy…
Get your GeekTech on: Twitter – Facebook – RSS | Tip us off