At a Glance
Expert's Rating
Pros
Sturdy base, high-quality parts
Useful features like button lock, cable storage
Cons
Default button layout doesn't match MVC3 defaults
Big and heavy
Our Verdict
If you're willing to shell out $160 for a controller, the MadCatz FightStick TE is an excellent choice, but if you're on the fence it probably won't change your mind.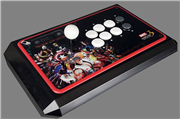 Fighting games are enjoying a renaissance in the console gaming world, and discerning players know that they need an arcade stick controller (along with a roll of quarters and a few sticky Slurpee spills) to properly re-create the full arcade experience. Some will settle for an inexpensive $50 set; others will spend a bit extra for the $70 MadCatz FightStick SE. But a serious player has to be willing to shell out the dough for a top-notch stick–and the $160 MSRP MVC3 FightStick Tournament Edition is a particularly appealing option.
Why Spend $160 to Play a $60 Game?
Flight-sim devotees won't play with a mouse; racing game enthusiasts need a steering wheel; and If you play a lot of fighting games, a proper arcade stick is an integral tool of your trade. A good input device offers unparalleled responsiveness and precision–good luck getting that from your console's gamepad. And if you've ever flung a controller at your friend in frustration (and had to buy a new one as a result), you can justify the cost of the FightStick TE on the grounds that it's too pretty to throw at anyone, no matter how hard you're raging.
If you aren't already the kind of person who would spend this much money on an arcade stick, the MVC3 FightStick TE probably won't change your mind. If you are in the market for a good stick for $150 or so, this review is for you.
High-Quality Parts and Build
Any serious conversation about arcade sticks starts with the parts involved. There are only a few major arcade button and stick manufacturers, and the differences between them can make or break a stick–literally. The MVC3 FightStick TE is blessed in this regard: It uses all Sanwa-branded parts, a high-quality standard straight from the official Capcom Street Fighter IV arcade machines in Japan.
When compared to lesser controllers, the superiority of the MVC3 FightStick is immediately apparent. The buttons are sensitive enough to react to a slight press, but not so sensitive that they might cause you to hit the wrong button accidentally. The stick itself is a Japanese-style Sanwa ball-top device shaped like a lollipop (as opposed to the classic American-style stick, which is shaped like a baseball bat). It's responsive and easy to move, though it doesn't snap back to neutral by itself all that quickly. If you're used to Japanese-style sticks, it'll feel like second nature, but if you're used to older American-style sticks, you might be accustomed to a stronger spring, in which case the MVC3 FightStick's may take some time to adapt to.
The whole controller is large and in charge–6.5 pounds, 16 by 10 by 5 inches. That sturdiness comes in handy when you're playing–the unit won't move around on a table, on the floor, or in your lap–but not so handy when you're carrying it around. If you want a stick that you plan to carry with you everywhere like a true World Warrior, you should probably opt for something lighter, or invest in a set of rolling luggage. On the plus side, MVC3 FightStick's sturdy construction means that it should be able to withstand any mashing-heavy beatdowns you'll deliver. And the Marvel vs. Capcom 3-themed art on the faceplate looks cool, albeit rather reserved compared to some of the previous FightStick TE designs.
One quirk: The button layout for the Xbox version places the X, Y, RB, LB buttons on the top, and A, B, RT, LT buttons on the bottom. This doesn't immediately map into the default Marvel vs. Capcom 3 button configuration, but it is one of the available presets, meaning that you might have to remap your buttons each time you start a session on someone else's Xbox. But at least you don't have to assign those functions manually, as you might with a custom stick. This can be a bit annoying at times–especially if you're rotating several sticks in and out during a tournament or a big gaming session–but for your home gaming sessions it's not a problem, as you can save your configuration once and forget about it. The stick is designed to work well for all fighting games, not just MVC3, but it's a little strange that it requires this extra step for the game it highlights on its faceplate.
Note that the MVC3 FightStick uses the same chassis found in previous iterations of the FightStick TE, not the newer TE-S used in select models with a slightly smaller size and different shape. The two stick designs aren't drastically different, but the TE-S sticks (the Chun-Li-themed and Super Street Fighter IV-themed models are both TE-S devices, for example) are a bit easier to fit in a bag.
Well-Thought-Out Features
The MVC3 FightStick TE has a few features standard to the FightStick TE line that set it apart from the other competitors in the field. You can configure auto-fire for any of the eight face buttons on the arcade stick, and you can toggle the stick's operation mode so that it functions as your left/right analog stick or directional pad, ensuring that it'll work with the games you're playing.
One of the most useful features is undoubtedly the lock switch, which prevents you from accidentally hitting your pause button, or the Xbox 360's Dashboard button/PS3 Home button–all of which are no-no's in competitive play. Another handy addition is the cord compartment stashed in the rear end of the stick, so you can safely hide the 13-foot USB cable between gaming sessions. Having lost multiple controller cables to curious cats, I think that the cord compartment alone could justify the price of admission.
It's worth pointing out that even though the MVC3 FightStick TE meets or exceeds the standards set by the other high-end competitive arcade sticks in the market, it lacks a handful of features that you might like in an arcade stick. For example, each modern game console uses a wireless gamepad, and a handful of wireless arcade sticks today enable you not to have to worry about tripping over wires. But this is called the "Tournament Edition" FightStick for a reason–wireless connections are more finicky than wired connections, and when you're playing in a tournament room with dozens of Xboxes and hundreds of hungry competitors, you don't want your $160 stick to lose the wireless signal in the middle of a match.
Likewise, some arcade sticks support multiple platforms, so you can use your arcade stick on an Xbox or PS3 rather than buy a different stick for each console. But in that case you'll have to locate a custom stick manufacturer, who likely won't be able to provide you with a warranty at all, much less one that matches MadCatz's five-year warranty. (And if you plan on modifying your stick, know that your warranty is void.)
Testing the FightStick TE
Of course, specs and parts don't tell the whole story. The FightStick TE handles like a dream in MVC3, so if you find yourself dropping combos or other complex moves, you have only yourself to blame. I've played with sticks where my hands would get disoriented in the middle of a game (hitting down-back when I wanted down, for example), or I could feel the stick itself grinding against the edges of the chassis. There was none of that here.
The FightStick TE also fared quite nicely for most other fighting games or other arcade games (shoot-'em-ups and old-school brawling games come to mind). Some games don't lend themselves quite so well to the button layout, however–Mortal Kombat, for example, is designed for a different layout, so it might take you a while to adjust. And though it's not an officially supported feature, you can get the FightStick TE to work as a PC peripheral, too–which makes it perfect for some emulated Metal Slug sessions. (Read our "How To Use Your Console Gamepad With Your PC" for more details.)
If you're looking for an arcade stick that will step up your game, or if you're an old-school gaming fan who wants some arcade-perfect hardware, the Marvel vs. Capcom 3 FightStick TE is an excellent controller with some very thoughtful features. On the other hand, if $160 is simply too much for you to pay for a gaming controller, this stick won't change your mind.