What's the biggest "overhang on Microsoft's stock," according to hedge fund manager David Einhorn? The continued presence of Microsoft's CEO, Steve Ballmer.
Einhorn, the head of hedge fund Greenlight Capital, told an investor conference in New York on Wednesday that Ballmer basically needs to step down, because he's stuck in the past.
"Ballmer is stuck in the past," Einhorn said at the Ira Sohn Conference, "and is at best a caretaker at Microsoft." Einhorn backs up this claim by pointing to Ballmer's comments in the media that imply he doesn't believe Apple's iPhone or iPod to be threats. Einhorn also says Microsoft has missed major opportunities in establishing tablets to compete with Apple's iPad, and has wasted money on mergers and acquisitions under Ballmer's lead.
Einhorn's Greenlight Capital currently holds about 9 million shares in Microsoft, or 0.11 percent of the company's outstanding shares, according to Thomson Reuters data.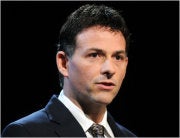 Microsoft's stock has stood still for the past 10 years, and was overtaken by IBM in market value on Tuesday, for the first time in 15 years. Ballmer has been Microsoft's CEO since January 2000.
Einhorn also points out that an investor who put $100,000 in Microsoft stock 10 years ago would now have only $69,000.
This is not the first time Ballmer has been criticized, but it is perhaps the most high-profile criticism against the Microsoft CEO. Einhorn is known for being somewhat controversial in his Ira Sohn Conference speeches: he notably criticized Lehman Brothers, and essentially predicted their downfall, just months before they filed for bankruptcy.
Follow Sarah on Twitter (@geeklil) or on Facebook