Google is eyeing your billfold with a rumored new service called Google Wallet that lets you pay for things with just a wave of your Android smartphone. The new service will use near field communication (NFC), a technology that uses a chip embedded in your phone and a card reader at retail locations. To pay, all you have to do is wave your handset in front of the reader and your bank account or credit card is automatically debited. The Android NFC program will reportedly start in New York City before rolling out to San Francisco followed by other locations across the country. The new payment system should arrive in retail stores around September 1, according to This Is My Next.
Google is expected to make its NFC announcement Thursday morning during a press event in New York. But you don't have to wait until then to find out what's going on. Here's what Google is rumored to be bringing to an Android phone near you in the coming months.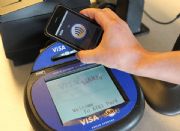 Google's NFC Partners
Google's new payment system is expected to be in partnership with a number of financial companies including Citigroup and MasterCard, according to an earlier Wall Street Journal report. The search giant is also reportedly partnering with NFC hardware makers such as VeriFone Systems and ViVOtech. The latter company, ViVOtech, may have inadvertently confirmed their participation in an email to TechCrunch on Wednesday.
Google's initial NFC roll out is expected to arrive first for Sprint customers, according to Bloomberg. That makes sense since Sprint is the only carrier with an NFC-enabled Android device, the Nexus S. But Google recently said dozens of NFC-capable devices would hit store shelves in the coming months. However, it's not clear if Verizon, AT&T or T-Mobile would join up with Google's plans, as the other three major U.S. carrier recently announced ISIS, a competitor to the rumored Google Wallet.
Where You Can Buy
Initial rumors pointed to American Eagle Outfitters, Macy's and Subway as Google's main NFC payment retail partners. But you can probably expect to see a number of other major retailers become part of the initial rollout. Late Wednesday, This Is My Next published a purported internal memo from The Container Store telling employees the retail chain would be part of the Google Wallet rollout.
The Software
Third-party developers will also be able to get in on the NFC act and create mobile apps that leverage NFC capabilities in Android devices, according to The Wall Street Journal. Android users may soon use NFC-enabled apps that track your reward points at fast food chains and coffee shops as well as other customer loyalty programs. The new system could also be used along with your smartphone's location-based capabilities to offer you discounts at nearby retailers similar to Facebook Check-In Deals. It's not clear what kind of security Android devices will offer to safeguard your financial data, but Google should make that clearer Thursday morning.
NFC isn't just for payments either. Google in December announced a pilot project in Portland, Ore. that uses NFC technology embedded in special placards at retail locations. Waving your phone in front of the placard provides you with information about the business, presumably from Google's Place Pages.
Google is one of many companies with rumored plans for mobile payment. Microsoft will reportedly bring NFC to Windows Phone 7 devices, and a hotly contested rumor is whether Apple plans to embed NFC chips in the next iPhone. Mobile payment start-up, Square recently released a new mobile app called Card Case that lets you start a tab at select retailers that gets regularly debited from your account. It's basically one-click purchasing for the physical world.
Connect with Ian Paul (@ianpaul ) and Today@PCWorld on Twitter for the latest tech news and analysis.