At a Glance
Expert's Rating
Pros
Very solid construction
Thin and relatively light
Cons
poor battery life
glossy screen
Our Verdict
If the battery lasted a couple of hours longer, this would be the must-have business traveler's laptop.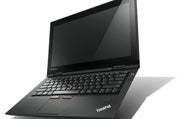 The technology press has lumped Lenovo's ThinkPad X1 into a growing category of Macbook Air competitors, but now that I've used one for awhile, I can tell you it doesn't really belong there. Though the X1 is the thinnest ThinkPad ever, it is still considerably thicker and heavier than Apple's razor-thin laptop. This isn't to say that it's thick or heavy (it isn't) or that it is inferior to the Air or other superslim laptops like the Samsung Series 9. It's just a different product for a different market: business travelers who like to travel light.
Lenovo says that the ThinkPad X1 is 0.65 inches thick and 3.8 pounds. Our measurements show it's a little thicker than that at its thickest. Compare those numbers to the 2.3 pounds and tapered design of the Air that is 0.68 inches thick at its thickest and a mere 0.11 inches at the front edge. Just pick up the X1 and you'll immediately recognize the difference. Lenovo's laptop is thin and relatively light (for a ThinkPad), but let's not get carried away.
Lenovo packs a lot of good stuff into this compact package. The whole system is extremely rugged, resisting our attempts to flex or bend it. The backlit island-style keyboard is not just a joy to type on, it's spill-proof as well. In an interesting twist, Lenovo has equipped the X1 with a clickpad instead of a trackpad with discrete buttons. It's a good compromise to get a larger touch area, and the texture and tracking of the pad is top-notch. For those that can't give it up, you'll still find the little eraser-nub pointer control between the G and H keys and a set of physical buttons between the clickpad and the spacebar. The base configuration includes a Core i3 processor, 4GB of RAM, and a 320GB, 7200-rpm hard drive for $1199. Our test model came with a Core i5-2520M CPU, raising the price to $1304. This configuration earned a respectable score of 124 on WorldBench 6, putting it near the top of the ultraportables category. SSD drive options are also available, though costly.
At first glance, the ThinkPad X1 seems to be missing a lot of connectivity options, as you'll only find a headset jack and a USB port under a small cover on the left edge and a card reader on the right edge. That's because most of the ports are tucked away on the back of the laptop. There you'll find a combo eSATA/USB port, a DisplayPort, an HDMI 1.4a port, a port for USB 3.0, and a covered SIM card slot for 3G connectivity. The 1366 by 768 display is bright and doesn't shift too much as you change your viewing angle, but it is a little disappointing to see Lenovo opt for a glossy glass cover instead of the anti-reflective matte finish found on most ThinkPads. The built-in high-def Webcam functions surprisingly well in low light, and the audio is a lot louder and clearer than you'd expect from a laptop this small. Credit that to Lenovo's licensing of Dolby Home Theater technology.
The Achilles' heel of this slick business ultraportable is its anemic battery life. Apparently, the one thing Lenovo couldn't really cram into this attractive black slab is a big enough battery. The nonremovable lithium polymer battery lasted only 3 hours, 41 minutes in our tests. You can double that with an external slice battery, but that's a serious compromise. It adds nearly a pound, makes the system quite a bit thicker (covering the back half of the bottom of the system), and raises the price by $150. What's the point of a thin and light laptop if you have to make it decidedly not thin and not light to get more than 4 hours of use out of it? At least it doesn't take long to charge. Lenovo is proud of how quickly its battery charges, and rightly so. You can go from drained to 80 percent of full charge in around half an hour, and the system is smart enough to charge up the internal battery first, and to drain the slice battery first.
There's a lot to love about the ThinkPad X1, even if it isn't quite thin or light enough to rightly join the ranks of Macbook Air competitors. It looks and feels great, is a joy to work on, boots fast, remains responsive even when multitasking, and has a really nice display. The audio quality and the Webcam are a cut above average, as well. If you don't need all-day battery life, it's an excellent choice. It's exactly the kind of thing a frequent-flyer businessman would want to stuff into his carry-on bag, provided he'll use it for less than 4 hours at a time. For users that demand all-day battery life, the external battery slice effectively eliminates the sleek size and weight that makes the system such an attractive prospect in the first place.