At a Glance
Expert's Rating
Pros
Lots of room for future upgrades
Excellent performance
Our Verdict
Micro Express's latest budget machine bucks the category trends—in all the right ways.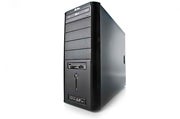 When you think of a budget desktop, what comes to mind? Integrated graphics, very few ports, and an extremely boring case, right? Well the Micro Express MicroFlex 23B does have an extremely boring case, but it's otherwise a pleasant surprise–with a discrete graphics card and USB ports to spare–considering it's labeled "budget."
The MicroFlex 23B costs just $600 (as of 5/26/11), but has some impressive features for the price. Sure, there's the 3.3GHz Sandy Bridge Intel Core i3-2120 processor, the 4GB of RAM, and the 500GB hard drive, but none of these features are particularly out of the MicroFlex 23B's price point. However, the Blu-ray drive and the AMD Radeon HD 6670 are nice touches, not to mention the 64-bit version of Windows 7 Home Premium and a pair of USB 3.0 ports.
This budget desktop delivers on performance, as well: in PCWorld's World Bench 6 benchmark tests, the system scored an impressive 141. For comparison's sake, that's more than 10 points higher than the Lenovo H320, which currently holds the number one spot on our list of top 10 budget desktops. The Lenovo H320 is about $100 more expensive than the MicroFlex 23B, but it also has an additional 2GB of RAM and Core i5 processor, though it is an older, Clarkdale model.
Though this system is by no means a gaming system, it still manages to blast by other budget PCs in terms of graphics. In our Unreal Tournament 3 tests, the MicroFlex 23B managed a decent 42.6 frames per second (fps), running on highest quality at a screen resolution of 2560 by 1600 pixels. The Lenovo H320 managed an unplayable 16 fps on the same settings, while the HP Pavilion s5660f (our number two budget PC) couldn't ekes out 11 fps. In fact, the MicroFlex 23B's frame rates actually put the system within competing distance of our lower-end Mainstream desktops.
The MicroFlex 23B is housed in a rather plain black aluminum chassis–in fact, it's the same chassis as the MicroFlex 25B. The front of the case is smooth and black and has rounded mesh edges with a few scattered blue lights. There are five expansion bays–one is occupied by the Blu-ray drive–power and reset buttons, a multi-format card reader bay, and a few convenience ports. The front of the computer has a total of three USB ports, microphone and headphone jacks, and a FireWire port.
There are more ports on the back of the system, including two USB 3.0 ports and six additional USB ports. There's also an SPDIF out, an eSATA port, another FireWire port, Gigabit Ethernet, and support for 5.1 surround sound. There are also two PS/2 ports–one for mouse, and one for keyboard–which is surprising, considering the system ships with USB-wired peripherals. The peripherals are standard and unimpressive: a three-button optical mouse and a flat, moderately quiet keyboard. The Radeon HD 6600 can be hooked up to a display via Display Port, HDMI out (a nice touch), or DVI.
Though the MicroFlex 23B's exterior might be somewhat of a letdown, its interior is certainly not. This system is totally ready to accept a ton of upgrades. The interior is roomy and uncluttered, with four free 5.25-inch bays, three free 3.5 inch bays, one free PCI slot, two free PCIe x16 slots, and two free PCIe x1 slots (though one is blocked by the graphics card. There are also two free RAM slots.
Software-wise, the MicroFlex 23B is pretty typical. You do get CyberLink Blu-ray disc software and LightScribe disc labeling software (this allows you to burn designs directly on special types of media).
All in all, Micro Express's MicroFlex 23B is an excellent deal. It's more than just a solid performer–it out-performed several of our mainstream desktops in our WorldBench 6 tests (not to mention all of our budget desktops). If you're not too keen on a sexy chassis, there's no reason not to take a look at the MicroFlex 23B for your basic and beyond basic computing needs.