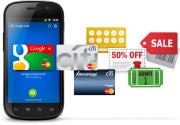 While Google had some notable partners at the launch of its mobile payment platform, the companies that weren't there could end up determining the success of the project.
Google on Thursday announced a platform and a trial that will let people tap their NFC-capable phones against a reader in a retail store to pay for goods. Sprint, Mastercard, Citi and First Data are supporting field trials in New York and San Francisco. More than 120,000 retail outlets including Macy's, Bloomingdales, Subway, Walgreens and others are involved.
But the three other national mobile operators, which back a different mobile payments platform, did not come out in support of Google's initiative. Neither did companies like Apple, Microsoft and Research In Motion that make non-Android phones.
"The other operators have their own thing, Isis, which is clearly in direct competition to this," said Nick Holland, an analyst with Yankee Group.
Isis is a nationwide mobile commerce network that uses NFC technology and was created by AT&T, T-Mobile and Verizon. While it has the backing of three of the four nationwide operators, it has a significant challenge, Holland said. "Isis doesn't really exist. A pilot in Salt Lake City in 2012 is the best they can come up with," he said. "Isis really needs to get their act together quickly if they're going to compete."
If Google's offering gains traction, the other operators might decide to support it instead of Isis. "I would not think that carriers' loyalties today are set in stone," said Avi Greengart, an analyst with Current Analysis. "If they see this take off, they'll back it."
In fact, it may be difficult for them to prevent customers from using Google Wallet in favor of their own offerings. "Are they prepared to say they're not going to have Android devices because they might be able to use Google Wallet?" Holland said.
Which platform the operators back may also depend on how much they stand to gain from each. "The question I have is whether Sprint is getting anything out of this monetarily," Greengart noted. The operators would like to take a small piece of each transaction made using their phones.
In the event announcing Google Wallet, held Thursday in New York City, neither Google nor Sprint said if there is any such transaction cut going to Sprint.
Sprint could forgo such a cut if it thinks that Google Wallet might attract new users to its network. That could happen because Google has created a new kind of incentive for people to use Google Wallet.
"The reason why you'd want to have Google Wallet is not because it's more convenient to pay with the phone than to pay with the credit card," Greengart said. "The reason to pay with the phone is because it's cheaper."
Past unsuccessful mobile payment trials assume that consumers want this technology mainly because it's more convenient. For the first time, with Google Wallet, customers have an incentive to use it. That's because Google has tied Google Offers, a new service, to the wallet. Google Offers is an electronic-coupon system that lets people get discounts on certain items when paying with Google Wallet.
Sprint could reason that that incentive is enough to attract customers to its network.
Another missing link for Google is non-Android phones. It did not mention other phones during the event and did not respond to a question about whether other kinds of phones are welcome on the platform.
Holland assumes that Google will let other phone makers use it. "If they truly are making an open wallet, it needs to be cross-platform," he said. Also, it would benefit Google to allow as many customers to use the wallet as possible because it can collect even more information about consumer buying behavior.
However, even if the other phone makers are welcome, they may not want to support it, primarily because they'll see just how much Google stands to benefit from the offering. "The cleverist part of this is Google is now transcribing its existing business model in the online space to the physical world. They literally get information that's extremely valuable. They can correlate directly sales in the physical world to ads placed by retailers online," Holland said.
Other handset makers like Apple would likely prefer to collect that data themselves, rather than enable Google to do so.
Google is also now pitting its offering against one from Visa, which has been aggressively working on various mobile payment technologies. Visa argues that its offerings are more open than Google's. "Our mobile solution in the United States is designed to be used on any mobile network, with any NFC-enabled smart phone, with any financial institution and on any payment product (credit, debit, prepaid)," Jim McCarthy, head of global product for Visa, wrote in a blog post in response to Google's announcement on Thursday.
Visa plans to launch a digital wallet product in the U.S. and Canada later this year and already offers a mobile payment program at retailers around the world. It has agreements in place with Bank of America, Chase, U.S. Bank and Wells Fargo for mobile payments.
"Contrast our approach with our competitors' plans and the fundamental differences become apparent," he wrote.
The competition and a lack of support from other handset makers and operators won't necessarily doom the Google Wallet. Consumers could easily have a different system depending on the phone. But converging them from a retailer and authorization standpoint could prove sticky.
While much remains to be seen in terms of how the service takes off, onlookers were impressed by the platform that Google has assembled.
"It was, candidly, far slicker and more polished than I thought it would be," Holland said. "I've been following this for years and this is probably the most fully baked version of mobile payments I've seen."
Nancy Gohring covers mobile phones and cloud computing for The IDG News Service. Follow Nancy on Twitter at @idgnancy. Nancy's e-mail address is Nancy_Gohring@idg.com