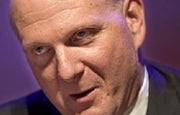 These are challenging times for Microsoft CEO Steve Ballmer. Imagine you're Redmond's sweaty supervisor. It's bad enough that hedge fund manager David Einhorn, unhappy with your company's diminishing industry clout and financial performance, is calling for your head. But you've also got the unenviable task of trying to persuade China to, well, give software piracy a rest.
Speaking in Beijing on Wednesday, Ballmer addressed the ongoing issue of piracy, which the software industry claims costs it billions in lost sales every year. To be a somewhat dubious number on it, the Business Software Alliance, an industry lobby group, claims that piracy in 2010 cost the software industry $59 billion in lost revenue.
The problem is particularly acute in China, where four of five software programs installed on PCs are pirated, the BSA says. That's a "commercial theft" of some $8 billion a year, according to the group.
Ballmer to the Rescue?
Redmond, it seems, is feeling the piracy pinch in a big way.
Speaking during an opening ceremony of a new Microsoft office building, Ballmer said Microsoft's revenue in China is a mere 5 percent of what it makes in the U.S.–despite the fact that PC sales in the two countries are nearly equal, the Wall Street Journal reports.
As for the argument that Chinese consumers would buy (rather than pirate) software if it cost less, Ballmer's not buying it.
"I'm not saying everybody in China could afford to buy a PC… but if you can, you could afford the software," said Ballmer, the Journal reports.
Microsoft and its BSA partners have complained about piracy many times before, of course, and the topic remains a sensitive issue between U.S. and China.
Chinese officials have promised to crack down harder on pirates. In December 2010, for instance, China announced it would begin inspecting central and local government computers to make sure they're running copyrighted software.
So far, however, China's efforts aren't helping much, the BSA claims.
"China's commitments to curb piracy have simply failed to produce results," said BSA President and CEO Robert Holleyman in a statement earlier this month.
BSA members, including many of the software industry's major players, have seen no significant rise in sales to China, the industry group says.
Contact Jeff Bertolucci via Twitter (@jbertolucci) or at jbertolucci.blogspot.com