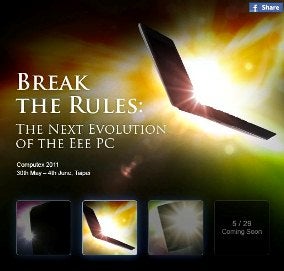 Asus has posted teaser pics on Facebook for three new devices it will introduce at Computex the week of May 30: a smartphone-tablet mystery device, a revamped Eee PC netbook, and "a tablet that jumps out at you."
Teasers never being very clear, we're left to guess what these mobile innovations really are. Perhaps most intriguing of the upcoming Asus devices appears to be a tablet and phone combo — perhaps in the spirit of Motorola's dockable Atrix, only Asus' smartphone may dock into the tablet rather than a keyboard. The teaser image on Asus' Facebook page currently just says "Pad or Phone?" but other versions of this image posted around the web also have a line beneath that says "Why not both?"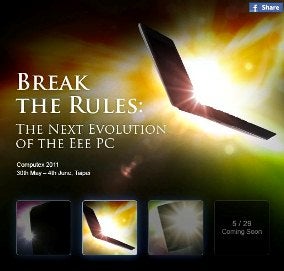 Asus is no stranger to making combo/docking devices, with the well-received Asus Eee Pad Transformer dockable tablet already under its belt.
The Eee PC netbook looks like it's getting a major upgrade. "The next evolution of the Eee PC" might be a slimmer and prettier netbook. It might run Linux. Heck, it could even be a Chromebook. All we know is that it will evolve-something probably necessary for the company to combat flat netbook sales this year. The Eee PC being one of the most popular netbooks, though, let's hope Asus will keep the Eee PC's low cost and long battery life in its evolved version.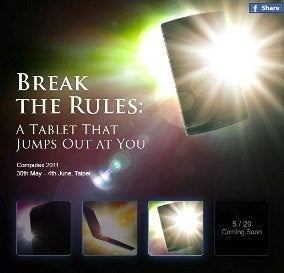 Finally, there's this Asus tablet that will jump out at us. What does that mean? Our assumption is — you guessed it — 3D. If that's the case, perhaps Asus has figured out how to eliminate the need for 3D glasses and to keep the cost down (unlike LG's G-Slate tablet which has nice specs and can capture 3D video, but also a high cost and requires the glasses for viewing).
Rule-breaking? Innovations beyond expectations? We'll see in just a couple of days.
Follow Melanie Pinola (@melaniepinola) and Today@PCWorld on Twitter.