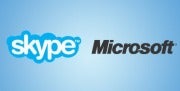 Skype users affected by a recent glitch can now get back online by downloading the latest software update — provided they're using Windows.
Windows users should be sure to quit completely out of Skype before installing the update. Keep in mind that an open version of Skype can sometimes hide in the Windows task bar, and may launch automatically on start-up depending on the program's settings.
A fix for Macs will arrive sometime today according to Skype's Heartbeat blog. In the meantime Mac users can fix the problem manually by navigating to Home/Library/Application Support/Skype, deleting a file named shared.xml, and restarting Skype. Linux users can also follow the manual fix instructions.
The problems surfaced early Thursday, but unlike December's massive Skype outage which affected all users for more than 24 hours the latest issue was a minor one. Skype said the problems stemmed from "a corruption that occurred in a small percentage of users' systems, resulting in some of our community not being able to sign in to Skype."
Either way, outages and errors are nettlesome as Skype tries to play a bigger role in online communication. Earlier this month Microsoft announced plans to acquire the voice and video chat service for $8.5 billion. Microsoft wants to integrate Skype into many consumer and business products, including Kinect and Outlook, while continuing to offer the service on other platforms.
Follow Jared on Facebook and Twitter for even more tech news and commentary.