Customers aren't always right, but their opinions almost always count. Glenn Reit discovered this the hard way when his New York dental practice got a single negative review from an anonymous user on Yelp. According to Reit's legal filings, his business dropped off drastically, from 10 to 15 new appointment calls per day to a mere 4 or 5. By any standard, the result of that one bad review nestled among ten good ones was disproportionately devastating.
Reit isn't alone. Although positive Yelp reviews can mean a marked uptick in revenues for almost any kind of company, negative reviews can be disastrous for small businesses. Fortunately, with a little patience and strategy, you can turn those thumbs-downs around and get your Yelp rating back in the black.
What Not to Do
As the old saying goes, you can kill more bees with kindness than vinegar. (Or something like that.) The time-honored adage goes double on customer-driven review sites like Yelp. If you suddenly find yourself staring slack-jawed at the most mind-bendingly hateful criticism you've ever seen for your business, take a deep breath and resist the temptation to do either of the following things.
Flame your critics: As a rule, fighting with people on the Internet is never a good move. Even if one person is unquestionably right, both participants usually end up looking stupid, mean, and uneducated in the eyes of all outside observers. (Case in point: The screenshot at right came from a friend's Yelp account, after the owner of an Illinois limo service decided to let her know what he thought of her review. Needless to say, she has not changed her opinion of the company.) The last thing you need to do is drag your business into the mud by publicly antagonizing someone who has already put some thought into criticizing you.
Sue them: I'm not a lawyer, so I can't say whether you'd even have a case against your most profane Yelp hater. What I can say is that lawsuits against Yelp and its users frequently make the papers, generally make the business owner look petty, cost a lot of money, and usually lose or settle without gaining anything for the business. From a PR perspective, suing a Yelp user over a bad review is a really effective, though frivolously expensive, way to raise widespread public awareness about the fact that people hate your company. Remember Glenn Reit, the dentist? He sued, went all the way to the New York Supreme Court, and lost.
A Better Approach
Assuming you're running a good business that's worthy of customer praise, the best way to manage or improve your Yelp rating is to make positive moves within the framework of Yelp's toolset. That means understanding how Yelp works and applying sound customer-service practices to encourage, reinforce, and reward praise, and to find opportunities to win back your critics.
I like to think that most people are generally sensible, but the Internet has an uncanny knack for transforming rational adults into raving, infantile morons. Yelp, doubly so. Once you accept this basic tenet, you can begin to view your online critics as the reasonable minds they probably are, rather than the juvenile half-wits they appear to be.
More significant, Yelp's semianonymous atmosphere seems to naturally attract people with what psychologists call a negative bias, offering a platform for users to vent their generalized rage with impunity. Users have the upper hand, and because Yelp doesn't require its users to make sound, rational arguments for their opinions, they often don't bother to try. (For a wealth of entertaining and illustrative examples, check out the blog Yelp Review Reviews, which runs daily examples of the Yelposphere's worst reviews.) All this considered, it's a wonder that any coherent, positive reviews appear on the site at all.
The message here is that Yelp reviews often say as much about the critic as they do about the business being critiqued, and since the nature of the site can bring out the worst in people, there's no point in taking the nastiness personally. Instead, use the tips and tools below to ratchet up your Yelp reputation.
Claim Your Business
Even if your company's Yelp page is so littered with hateful feedback that you can barely stand to look at it, you won't gain a thing from leaving its fate entirely in the hands of others. To turn the situation around, you first need to take ownership of the page.
Claiming your business's page is easy. First, sign up for a business account. Business accounts are free, and they include features for managing your company's profile, so they're distinct from ordinary user accounts. Once you have an account, you can verify that you're the owner of the business by letting Yelp's automated system call the phone number listed for your business and entering a PIN code that Yelp provides.
Once that's done, you can update your business listing with photos, correct hours, and promotional information. Take the time to fill out the profile with useful details about your company. The more helpful information you offer, the more engaged your business will appear to be. Provide enough good detail, and you might just capture the interest of a potential customer before they have a chance to read any reviews.
Encourage Good Reviews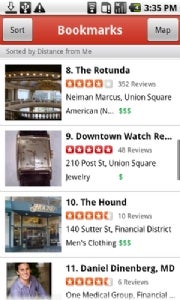 For potential customers who find your business through Yelp's mobile app, the star rating is likely to be the biggest determinant in whether they'll drop by. Sure, they may read the first few reviews that pop up, but if you don't have a rating of four or five stars, most users probably won't even tap on your listing. For this reason, your primary objective should be to overwhelm any mediocre or negative ratings with a healthy supply of more positive ones.
Although it would be unethical to gin up your Yelp rating with fake reviews, offering an incentive for genuine customers to leave positive reviews is good business. Advertising a small, one-time discount or freebie to anyone who brings in a printout of their review about your business can drive plenty of good reviews your way. You should probably refrain from insisting on positive reviews, for three reasons:
1. It makes you look desperate.
2. People are generally kinder when they know their words will be associated with their identity in an in-person encounter.
3. Your regulars are the most likely people to respond to such an offer, and they're even less likely to bash you while they're taking advantage of your special offer.
Lots of businesses employ the fairly cheap practice of rounding up relatives and friends to log on and leave glowing reviews. Fair enough. But consider asking them to tone down the praise to a vaguely plausible level. Sure, you want them to give you five stars, but when a review gushes ecstatically that your roadside filling station has the best potato salad on the planet, everyone will assume your mom wrote that.
Court Your Critics
When you're faced with an unhappy customer in the real world, you likely don't just ignore them on the assumption that they represent a minority view. Instead, you try to win them over with apologies, discounts, and freebies, and you leave them walking out the door with a coupon for their next visit. The Internet should be no different.
Yelp includes tools that give business owners a chance to respond to customer complaints, and using them is a good idea. Take the time to apologize for bad service, and offer the person an incentive to come back so that you can make it up to them. If they do return, you stand a chance of getting them to revise their review.
You can send any user a note privately through the 'Send Message' link at the top of the review, which might be the best course of action for an initial contact. You might discover that, if the person wrote their review in a fit of anger that they've since recovered from, they'll feel compelled to edit it a little once they see that their words have had an impact.
Alternatively, you can leave a public response directly on the review. Even if the customer doesn't change their mind, this approach makes a public statement about the kind of business you're running–that you take your customers seriously and care about making things right.
Have Fun With It
Realistically, you're probably not going to win with every single customer. Some people are just ornery, and too many folks like to hold a grudge. If life hands you an oversupply of sour reviews, make lemonade the way San Francisco's Pizzeria Delfina did. Rather than fret over their one-star ratings, they printed them on T-shirts worn by restaurant employees.
"The pizza was soooo greasy," reads one shirt, "I'm assuming this was in part due to the pig fat."
As with anything else in business, success on Yelp is about knowing your customers and responding appropriately, even if that response is printing their words on a T-shirt in open mockery of their opinion. This approach won't work for everyone, but I have to credit Pizzeria Delfina's creative problem solving.