Apple appears ready for widgets and better notifications for applications on its cell phone and tablet devices. A new mapping system may have to wait.
Sources quoted by TechCrunch provided the details of the forthcoming release of Apple's latest mobile operating system, iOS 5, for Apple iPhones and iPads.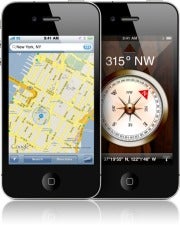 There's been much speculation from the Apple rumor mill that the company will announce something big at its Worldwide Developers Conference in San Francisco June 6-10.
Widgets are small programs in floating windows that provide quick access to information or functions, such as weather, or website news feeds. Google Android already has widgets, as do other smartphone platforms. There has been criticism from techies that widgets have been omitted from the iPhone and iPad platform to this point.
It's unclear how widgets would be implemented on Apple mobile devices. Other moves Apple has been making may offer some clues.
Apple is merging the look and feel of its desktop and mobile operating systems. Last year, it said it was taking many iOS developments "back to the Mac", for example. The next release of OS X — codenamed Lion — mirrors many iOS features. That isn't surprising since iOS already borrows many features from Apple's desktop operating system Mac OS X, such as the ever-present Dock at the bottom of the screen, and Spotlight search.
The widget system is called Dashboard within Mac OS X, and that is perhaps the name we will see when widgets are rolled out for iPhones and iPads. The widget interface for the mobile devices also may have a separate "space" that users can swipe to, like what is being rolled out with the upcoming release of Mac OS X.
One suggestion is that it will replace the existing search screen, which is uncovered by swiping left to right from the first home screen. Designer Jan-Michael Cart has produced a video mock-up speculating how this might work.
As for what the new notification system might look like, that's harder to guess. On Apple desktops, many Mac users rely on third-party add-ons like Growl.
Earlier this year, Apple was rumored to have purchased a small company that produces a notification application for the iPhone.
Apple also has been snapping up mapping technology companies recently. But 9to5Google reports sources that claim iOS 5 will stick with a Google Maps backend. Google Maps data underpins Apple applications and those of third-parties that use mapping services.
The good news is that 9to5Google also reports that, although Apple hasn't yet got in place its own mapping technology, there might be a new front-end application providing turn-by-turn navigation, so the iPhone can be used within vehicles for navigation without the need to buy a third-party application.