Gaming on Android just got a little more difficult.
Sean Hollister of Engadget noticed that several popular video game emulators were yanked from the Android Market this week. The removed emulators included Nesoid, Snesoid, Gensoid, N64oid, and Gameboid. All were created by developer Yon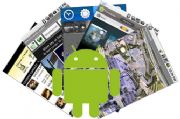 gzh.
Engadget caught up with Yongzh who confirmed his developer account was removed without warning. He told Engadget he is in the process of moving his emulators to third-party app store SlideME, but isn't "optimistic about his prospects."
This isn't the first time Google has pulled emulators from its smartphone app store.
In April Google pulled PlayStation emulator, PSX4droid from the Market. I'm guessing the application drew unwanted attention when Sony Ericsson was promoting its own, Android-based PlayStation phone, the Xperia Play.
Emulators are on shaky legal ground. Apparently the emulators themselves are legal, but using game ROMs usually isn't.
It's hard to blame Google for removing questionable software, but perhaps this gives reason for a little more up-front management of its marketplace. After all, these apps were available for sale and I'm guessing quite a few Android users spent a dollar or two purchasing them before the ban.
Seems to me like this might be one case where Apple's walled garden approach to its App Store might have an advantage over Google's "report abuse" approach.