Taiwan's Asustek Computer has previewed a smartphone-tablet PC combo device that seeks to bring together the strengths of both devices without completely duplicating the hardware.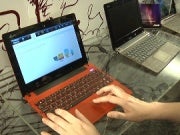 The Padfone comprises a pair of devices: a smartphone and a dumb tablet.
On its own, the handset functions as a conventional smartphone but it can be inserted into a dock built into the back of the tablet. The user can then access all the smartphone's features and functions through the larger screen of the tablet. The tablet also includes a built-in battery that powers the device and can recharge the smartphone's battery.
Introducing the device at the Computex IT trade fair in Taipei on Monday, Asustek Chairman Jonney Shih said his company is attempting to produce a single device that can be used in different ways. For quick messaging and making calls, the smartphone handset could be used, while web browsing and watching movies could be done through the tablet screen with the handset docked.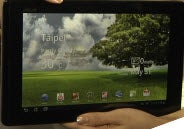 Asus didn't provide any technical specifications, pricing details or a launch date for the device.
Alongside the Padfone, Asus also launched a 7-inch tablet with glasses-free 3D display. The Eee Pad MeMO 3D comes with a companion Bluetooth handset that can be used to make calls through the tablet. No price or launch date was announced.
Asus is perhaps best known as the company that created the netbook PC category. The first Eee PC was unveiled at the Computex show in 2007 and the company continues to launch new models, despite the current fashion for tablet PCs.
The latest Eee PC, called the X101, breaks new ground for Asus in terms of price and operating system.
It's based on the Meego platform developed by Intel, features a 10.1-inch screen, Intel Atom N435 processer, and will cost US$199. A second version will be available at a higher price that boots into either Meego or Microsoft's Windows.
Martyn Williams covers Japan and general technology breaking news for The IDG News Service. Follow Martyn on Twitter at @martyn_williams. Martyn's e-mail address is martyn_williams@idg.com