It's the hybrid of the gadget world, and computer maker Asus wants in.
The company demonstrated its combination smartphone and tablet device called the Padfone at the Computex trade show in Taipei on Monday.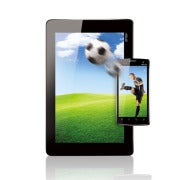 The new Android-based phone-slate combo is basically an Android handset with a companion touch-based tablet dock that has a rear slot for holding your smartphone. The concept is similar to Motorola's Atrix 4G, an Android phone that switches between a handset display and a webtop view when hooked up to an external keyboard and monitor.
Asus is currently showing off a 4.3-inch phone and a 10.1-inch tablet dock, but the company says it has not finalized the Padfone's specifications, according to Engadget. Pricing and availability were not announced.
Being able to seamlessly switch between the smartphone and the tablet dock is the idea. For example, if you are watching a video on your handset and switch to the tablet, the device will allow you to continue right where you left off.
Asus says the tablet also will display content in its native resolution as opposed to simply upscaling the smartphone's display. The tablet's larger battery can also charge the smartphone component, and the phone's 3G capabilities will be available when in tablet mode. In one Asus promotional video, the smartphone's voice calling features were still available when in tablet mode.
The smartphone and tablet will both have front-facing cameras for video conferencing, they will share one SIM card for 3G access, and storage will also be shared across both devices. The Padfone's operating system appears to be a mystery, as the company hasn't confirmed which Android flavor it is using.
During the company's Computex presentation, Chairman Jonney Shih was clearly showing off a Honeycomb tablet. But considering that Honeycomb is for tablets only, the device may end up running Ice Cream Sandwich, the next Android flavor, capable of working on both phones and tablets.
Asus's new smartphone-tablet combo is an interesting take on mobile hybrid devices. And the tablet dock appears to make more sense than slapping your phone into a laptop shell since a tablet and phone interface are so similar.
You can see Shih introducing the Padfone at Computex on YouTube.
Connect with Ian Paul ( @ianpaul ) and Today@PCWorld on Twitter for the latest tech news and analysis.