MSI is revealing a variety of new products at the Computex 2011 conference this week, including a variety of tablet models. The real question, though, is when–or if–they will even be available, because MSI has been 'unveiling' tablets for over a year now.
Computex is the Asian equivalent of the CES conference that takes place in Las Vegas each year, and it is a showcase for new products and technologies–sort of like the Auto Show, but for computers instead of cars. The main difference, though, between the Auto Show and these computer conferences is that car manufacturers are honest about the fact that concept vehicles are prototypes that look flashy at the show but will never see the light of day. Computer manufacturers, not so much.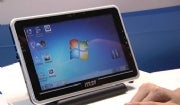 At Computex this week, MSI is showing off the WindPad Enjoy 10–a 10-inch Android tablet with an anemic 512MB of RAM and meager 4GB of storage capacity, and the WindPad Enjoy 7–a similar tablet with smaller display and lower resolution, but longer battery life. Yay?
That isn't all from MSI's bag of tricks, though. MSI is also touting the WindPad 110W with an AMD Fusion processor, 2GB of RAM, up to 64GB of SSD storage capacity, and running Windows 7, and the WindPad 100A, with a dual-core ARM processor, 1GB of RAM, and SSD storage up to 32GB, running Android.
MSI is not discussing availability or pricing. I am not surprised. The MSI tablet strategy seems to be limited to announcing vaporware at trade shows. WindPad 100A seem déjà vu? Maybe it reminds you of the Android tablet running on a Tegra processor announced by MSI in January of 2010 at the CES conference? Does the WindPad 110W sound familiar? MSI announced a WindPad tablet running Windows 7 in June of 2010 at last year's Computex as well.
Here is another key difference between auto shows and computer shows. The concept prototypes at auto shows are futuristic. They have mind-blowing features and capabilities designed to show off what engineers think might be possible someday. The vaporware tablets shown off by MSI and others at these conferences don't exactly spark the imagination. In most cases, they don't even match what is available today, and leave me thinking that the only area they could possibly compete would be on price.
I know that we are supposed to get excited about the new toys and gadgets unveiled at these conferences, but it is getting old seeing the same manufacturers announce the same toys and gadgets over and over and over. I would love to see more variety and competition in the tablet market, and some of these tablet prototypes seem capable enough. But, either slap a price on it and bring it to market, or be honest and just say it's a concept tablet that will never see production.