The product announcements are coming fast and furious from the trade show floor at Computex in Taipei, including a virtual sea of tablets. There are a number of interesting contenders in there, to be sure, but two new offerings from Asus–my favorite hardware maker–strike me as being particularly rich with possibilities.
First, of course, is the widely anticipated Padfone, a convergent device that combines Android smartphone and tablet computer, giving consumers a choice of screen sizes for each situation or computing task without having to worry about data transfer hassles or multiple SIM cards.
With the Padfone, the smartphone docks inside the tablet. While it's there, it can recharge from the tablet's larger battery and the tablet can make use of the smartphone's 3G internet connection. With dual interfaces for both the pad and phone, layout is automatically adjusted for all activities, including videoconferencing, Web browsing and emailing.
I'm always a big fan of more choices, but for mobile workers on the go, this seems like an especially clever idea. If only sharing data were this easy among all the other devices in our lives.
Powered by MeeGo
Asus's new Eee Pad MeMO 3D is another intriguing Android tablet option, but as a fan of Linux and open source software–and not so much a fan of tablets–I'm even more excited about the MeeGo-based Eee PC X101 netbook computer.
With a wing-shaped design that's just 17.6mm thick and weighs a mere 950g, the Eee PC X101 is easily transportable and yet packs considerable computing power into its svelte design. The device sports a 10.1-inch screen, QWERTY keyboard and the Intel Atom N435 processor, along with 802.11b/g/n Wi-Fi.
The Linux-based MeeGo operating system, meanwhile, includes a raft of built-in productivity tools and offers full support for a wide range of social networking services. Perhaps best of all is that the device will cost $199.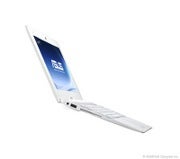 'Instant On' Technology
An alternative X101H model, incidentally, offers all the same features as the Eee PC X101 but comes with a hybrid hard drive and choice of Window 7 or MeeGo. With Asus's "Instant On" technology, the device can resume a saved session in just two seconds from standby mode, the company says.
Either way, just as the Padfone offers a choice of form factors to use in any given situation, so Asus's new netbooks offer a choice of operating systems–not to mention all the flexibility and user empowerment that go hand in hand with Linux.
More choice and more flexibility make for a winning combination, I believe. Business users will want to check these devices out.