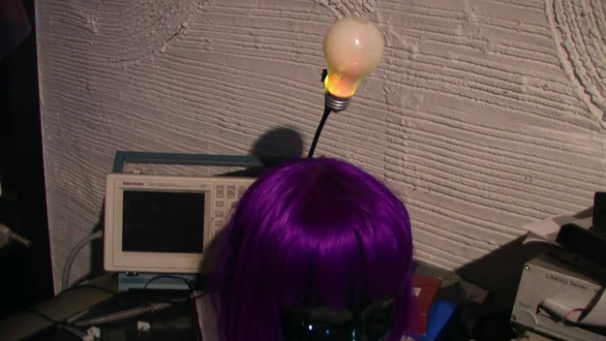 Sometimes, you have a bright idea, and you just want the world to know about it. Jeri Ellsworth decided to hack together a lightbulb that would hover over her head and tell the world when she's thinking. The lightbulb contains a pair of LEDs (one red, one green) and attaches to a band with a pair of electrodes inside it that goes around the user's head. In addition, a third electrode is connected to the user's arm.
The input from the two skull electrodes is compared against the baseline provided by the third electrode by an instrumentation amplifier hung around the user's neck along with a battery pack. The resulting signal is transmitted to the LEDs, to inform the masses of your cognitive activity.
If you're interested in building one of your own, Ellsworth gives a detailed explanation of how hers is built in the video above.
[via Hack A Day]
Blair Hanley Frank thinks, therefore he is.
Like this? You might also enjoy…
Get your GeekTech on: Twitter – Facebook – RSS | Tip us off