With the introduction of the Ultrabook, Intel has made the consumerization of IT even more of a reality.
Launched at the Computex trade show in Taiwan Monday, Ultrabook is Intel's new name for a class of full-performance laptops in ultra-slim cases. The chipmaker says the devices will be less than an inch thin, will offer long battery life, will cost less than $1000, and will offer tablet-like "instant-on" capabilities. In short, it will look a lot like the current Apple MacBook Air.
In fact, the first-introduced poster product for the Ultrabook, the Asus UX21, comes in a very similar form factor to the diminutive Mac.
That's not a bad thing. The MacBook Air has become iconic partially because of Apple's unstoppable marketing machine, and partially because it offers a thin-and-light package with capabilities more in line with a full notebook.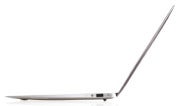 Intel's game plan for the Ultrabook involves three waves of products, the first of which will launch later this year and feature Sandy Bridge Core i5 and i7 processors. Following generations will have more computing power plus longer battery life, according to Intel's roadmap. Even at the first step, this offers a significant power advantage over today's MacBook Air, although there are already signs that Apple will soon revise the Air using Sandy Bridge processors.
When the MacBook Air launched, both initially in early 2008 and in its most recent flavor last October, it provided a boost to the then-nascent idea of the business computer as a personal device. The original Air was one of the first notebook computers that business users purchased themselves and then demanded to use in a corporate environment.
But if Intel succeeds in getting computer makers to buy into its vision for the Ultrabook, it will take that trend to a new level. Consider that Intel estimates that by the end of 2012, 40 percent of consumer laptops sold worldwide will fit into the Ultrabook category. Certainly, some of those machines will go to students and home users who want a thin and light device for their day-to-day computing needs. But a lot of them will also show up in businesses large and small, purchased by companies that have embraced the "Bring Your Own Computer" philosophy and either provide their employees a budget for acquiring and maintaining their own PC or simply allow employees to connect their own devices to the corporate network.
Done right, as no doubt some of Intel's PC-maker partners will do, the Ultrabook has the potential to offer the same "That's cool, I have to have it!" response that the MacBook Air has enjoyed.
It also has advantages for PC buyers that the Mac product does not–users in businesses with mission-critical Windows apps or PC-centric security policies will not have to either learn to fit OS X into their environment or force the compromises inherent to either offering Mac-based Windows virtualization or forcing users to use Boot Camp.
And while the entry-level 11-inch MacBook Air currently lists at $999, Intel's "sub-$1000" price guidance for the Ultrabook, combined with the sure-to-emerge competition amongst Ultrabook vendors, it's likely to keep the price below that point and offer greater price performance options for those who want to stick with Windows.
The Ultrabook promises a powerful compromise: Sexy enough and cheap enough to make consumers want to bring it to work; powerful enough to meet the work needs of the majority of business users; and familiar and manageable enough thanks to Windows that IT will likely feel a little more easy about welcoming it into the fold instead of the MacBook Air.
Robert Dutt is a veteran IT journalist and blogger. He covers the Canadian IT technology solution provider scene daily at ChannelBuzz.ca. You can also find him on Twitter.