With the announcement of the Google Wallet mobile payment system last week, small businesses will have new ways to process credit cards while shoppers can make "contactless" payments.
And while this service from Google is new, numerous pass-through services already allow people to use a smartphone to pay for goods. PayPal had been among the dominant players in this arena, and has already responded to Google's announcement by filing a lawsuit. PayPal remains a good service for buying things online, but it doesn't work so well at the point of sale (POS).
Several other tools work well with POS systems, allowing small businesses to process credit cards through smartphones. Last winter saw the launch of Sage Payment Solutions, which allows small and midsize businesses (SMBs) to expand their payment options by accepting credit and debit cards across all major wireless carriers. And there was the release of Smart Mobile Payments, which launched its YESpay-Wallet for smartphone-based mobile payments for vendors participating in its Web and mobile program.
Other smartphone services include Roam Data's RoamPay, Square, Intuit GoPayment, Phone Transact iMerchant Pro and PayWare Mobile.
These options remain good. But the question is whether Google will be the game changer, and whether it will have people reaching for their handset over their wallet.
The first issue is that for now, Google Wallet is only available with Google's Nexus S 4G phone, which is Sprint-only. Verizon and AT&T users had better bring cash or a credit card. Google is reportedly working on ways to make the service available to other handsets, but has said nothing about support beyond Android phones. Google Wallet, which will support bar-coded payments, will also only integrate with Citi MasterCards, as well as the Google Prepaid Card.
But neither Google Wallet nor Square's new services will change POS tomorrow. While their services promise to replace cash or credit cards, the systems require that both consumers and merchants have the appropriate software and hardware to complete a transaction.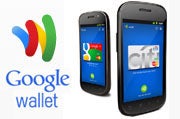 For Google Wallet this means that a smartphone must communicate with payment-processing hardware that can accept and process a near-field communications (NFC) payment. For Google Wallet to replace real wallets Google will have to provide merchants with the hardware.
Google claims that hundreds of thousands of businesses are ready to go, as Google Wallet makes use of MasterCard's PayPass system to accept transactions. This still leaves out the smaller merchants that don't use PayPass.
And what about other handsets? Apple reportedly won't include NFC in the iPhone 5, and instead could be working on a payment scheme that would let users pay for goods and services via an iTunes account.
All of this might not be overwhelming to larger retailers that process numerous credit cards as well as accept gift cards and cash, but for small merchants the limitations it could be daunting. It could be some time before Square and Google Wallet make traditional credit cards go the way of the Diner's Club.
Peter Suciu writes about technology trends for small business, but has an appreciation for the Victorian Age when the telegraph was the information superhighway. After living in New York City for 18 years, he now resides in more rural Michigan.