At a Glance
Expert's Rating
Pros
Ultraportable in size and screen real estate
Good ergonomics and video playback
Cons
Not for gaming
Slow benchmark performance
Our Verdict
If you want the ultraportable form factor and can live without state-of-the-art performance, this laptop is a bargain.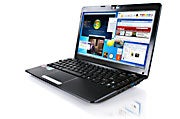 It's an ultraportable, it's a netbook, it's an ultraportable, it's a netbook… Judging by its size, screen real estate, and features, Asus's 3.3-pound Eee PC 1215B is an ultraportable. However, it's priced at only $450 and sold as part of Asus's netbook line. Alas, the performance of its AMD Fusion E-350 CPU just muddies the waters further; while significantly above average for a netbook, it falls well below the norm for ultraportable laptops.
Whether considered as an underpowered ultraportable or a supersized netbook, the Eee PC 1215B is a well-designed, comfortable-to-use laptop. A thoughtful combination of matte and glossy blacks gives the unit a sedate but classy overall appearance. The status lights are out of the way on the front of the unit, and the power button, while directly underneath the display, is dim enough that it won't intrude on your viewing experience. The keyboard is a tad on the soft and quiet side but still quite easy to type on. The touchpad offers excellent response as well, and its restrained silver trim makes it easy to locate on the keyboard deck, though the rocker button is a tad stiff.
The 1215B's 1366 by 768 display delivers a sharp image with a decent if not overly impressive amount of usable brightness. However, the backlight on our test unit bled badly on the upper left corner, to the point of distraction. Whether this is a one-off defect or a design flaw, we don't know, but check yours out before you leave the store.
The 1215B's port array is considerably above average: It includes, besides two USB 2.0 ports, an always-on USB 3.0 port, VGA and HDMI ports, an SC card slot, audio in and out, and a Kensington lock port. Connectivity is comprehensive, if not quite state of the art. Bluetooth is on board to accompany the Wi-Fi and ethernet; however, the Wi-Fi is single-band 2.4GHz only, and the ethernet is 10/100, not gigabit. The specs on Asus's site claim a/b/g/n wireless, but the hardware IDs in Device Manager showed that its Broadcom chip is the 4313, which supports only b/g/n. Asus has confirmed that U.S. versions of the 1215B are b/g/n only.
As to the tweener performance: The 1215B's WorldBench score of 52 is well above the Atom-powered netbook norm, but far slower than that delivered by the Intel Core processors found in many ultraportables, and even slightly slower than the other Fusion E-350-powered units we've tested.
Being slower than other E-350s is more likely due to the number of background applications and services, rather than to the healthy 2GB of memory or the capacious 320GB, 5400-rpm Seagate ST932032 hard drive. Note: if you're thinking of installing a solid-state drive, the 1215B is old-school in burying the hard drive within the body of the unit. The task of removing it is clearly daunting enough that I dropped the idea.
The 1215B's gaming frame rates are a huge tease. With midtwenties frames per second at medium detail on less-stressful games, it gives just enough performance to invoke wistful thoughts of what might have been. As it is, most modern games are unplayable. On the other hand, the Eee PC 1215B played every video stutter-free, even high-def 1080p, at high bit rates. By comparison, the Webcam is pixel-challenged, providing only 320 by 240 resolution.
Software detritus sitting atop the 1215B's Windows 7 Home Premium operating system includes the Bing toolbar and quite a few Asus utilities, although most are actually somewhat useful and not sucking up a lot or space or CPU cycles. Microsoft Office 2010 Starter is on board as well as Trend Micro's Titanium antimalware software.
Battery life on the Eee PC 1215B is hardly record-breaking, but decent enough given the chipset and performance: 5.5 hours is about enough to get you from coast to coast if you don't tax the unit unduly.
If you're looking for the ultraportable form factor and ergonomics without the ultraportable cost, then the Asus Eee PC 1215B is a product you should consider. The performance is middling at best, but for everyday chores and video, it's more than adequate.
Note: When you purchase something after clicking links in our articles, we may earn a small commission. Read our affiliate link policy for more details.