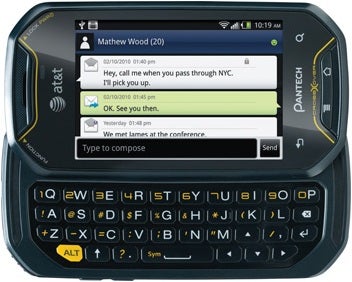 Pantech's first Android smartphone in the United States, the Crossover, isn't much to get excited about. If you've been watching the smartphone market for a while, you'll be let down by its specs: 600 MHz processor, 3.1-inch display, 3-megapixel camera, a pre-loaded 2 GB microSD card and up to five hours of talk time, all for $70 with a two-year contract. Spec-wise, it's not much different from the HTC Aria, which AT&T gives away for free with a two-year contract.
But unlike the Aria, the Crossover does have a physical QWERTY keyboard. Pantech has had a successful portfolio of "quick messaging devices" (or QMDs) on the carrier, which are essentially feature phones with keyboard.s According to AT&T and Pantech, the Crossover meant to comfort feature phone users who aren't accustomed to touch screen keyboards. The Pantech Crossover also has rubberized corners, so "it's not afraid of a little action" according to AT&T's press release. (Note that this is not a "rugged" phone like Casio's G'zOne Commando, which meets military standards for resistance to the elements.)
The Pantech Crossover also comes with a few added apps (or bloatware, however you look at it) in the form of AllSport GPS, though it may be useful for joggers and hikers. The app has a workout tracker, calorie counter, lap times and social network sharing. The Crossover runs Android 2.2, and for all those smartphone newbies who are ready to tack on a tethering plan, the phone can connect up to five Wi-Fi-enabled devices with AT&T Mobile Hotspot.
I haven't seen the Crossover up close, so I can't say whether its keyboard and design make up for its weak processor and camera, tiny storage capacity and limited battery life. But hey, those smartphone newbies can't tell the difference, right?
Follow Jared on Facebook and Twitter for even more tech news and commentary.