Intel's Ultrabooks and Google's Chromebooks are new categories of laptops (or netbooks, if you will), and both want to simultaneously woo you away from your desktop yet prevent you from defecting to tablet-only mobile computing. But that's pretty much where the similarities end.
The Ultrabook, announced by Intel on Tuesday, focuses on thin and light mobile computing with "tablet-like features." With a sub-$1000 price, Ultrabooks appear to be gunning for the MacBook Air–the reigning ultra-thin, ultra-light notebook, which starts at $1000 for the 11.6-inch version.
The first Ultrabook, the Asus UX21, sounds a lot like the MacBook Air. It doesn't have a price yet but will support up to a Core i7 processor and, like the MacBook Air, feature a unibody design and a thickness of just 0.67 inches (ok, the MacBook Air is 0.68 inches thick).
Later waves of the new ultrathin Ultrabook laptop will boast the upcoming Intel processors-Ivy Bridge chips, which are claimed to be 37 percent faster than current chips and more energy-efficient. Looking even further into the future, in 2013, Intel expects Ultrabooks to be even thinner and have longer battery life. Although a third of an inch thin is plenty thin for most people, thin and super-powered is the trend Ultrabooks are definitely trying to ride.
Perhaps even more relevant than the thinner designs are the yet-to-be-detailed "tablet-like features" of Ultrabooks. A crossover category between ultraportable laptops and tablets might really rejuvenate the laptop category, but this will depend on the Ultrabooks' touch experience-something yet to be determined.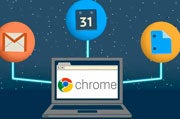 On the other side of the spectrum are Google's recently announced Chromebooks, which have also promised to reinvent mobile computing with their low cost and Web-centric platform. While Ultrabooks seem to go after the premium laptop category, Chromebooks are targeting budget users, as evidenced by a monthly subscription plan for business and education users and a starting price of $349 for the 11.6-inch Acer Chromebook. Chromebooks don't advertise processing power or extraordinary aesthetics as much as they do ease of use and cloud connectivity.
My PCWorld colleague Tom Bradley has predicted Chromebooks are doomed to fail, while TheStreet writes that Google Chromebook outshines Intel Ultrabook. Clearly these new mobile devices are meant to serve different audiences-and yet both are attempting to revive the laptop/netbook category overall. Which do you think will work?
Follow Melanie Pinola (@melaniepinola) and Today@PCWorld on Twitter