If you have an external keyboard for your iPad, you already have most of what you need for a solid distraction-free writing experience. The iPad's windowless interface offers few background bobbles to break your concentration (except for push notifications, of course). So in that sense, pretty much any text editing app will do a passable job as a distraction-free word processor. But if you're looking for something designed to make writing on the iPad as simple and focus-enhancing as possible, Clean Writer and OmmWriter demand a closer look.
Clean Writer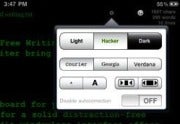 One of the best bargains in iPad-based text editing is Clean Writer, a $2 app that offers a clean writing interface with Dropbox integration. I wrote about this one back in March as one of my four essential iPad productivity boosters.
Clean Writer is fairly free of frills, but that's kind of the point. The Settings menu is small and simple, letting you choose between three color-schemes and three fonts, and giving you the ability to increase or reduce the font size and margin width. You can also turn auto-correction on or off, and that's the end of the options.
In daylight, I like Clean Writer's simple black-on-white color scheme, but at night it's nice to reverse it to white-on-black. There's also a green-on-black mode for those who like a retro vibe, and this one also does well in low light. In daylight, however, the iPad's high-glare screen makes the green text hard to see.
OmmWriter
Just released on the App Store today, the $5 OmmWriter for iPad app packs some cool and unusual mind-clearing features that raise the bar for distraction-free writing apps. Where most other apps of its kind are designed to offer little more than a minimalist screen to write on, OmmWriter adds in a variety of wallpapers and sound schemes designed to deepen your immersion in what you're writing.
Users of the PC and Mac versions of OmmWriter will be pleased to find some of the same meditative soundscapes and landscapes on the iPad that they've come to know on the desktop, and a few new ones too. Paired with a keyboard, writing with OmmWiter on the iPad is virtually indistinguishable from writing with OmmWriter on a PC or Mac. Your mind settles into a steady stream of consciousness as soothing white-noise audio effects play gently in the background. Simple visual backgrounds offer your peripheral vision a break from the text on the screen without actively drawing your attention away from what you're writing.
OmmWriter represents a compelling departure from the conventional wisdom about focus and productivity, acknowledging the mind's natural tendency to wander and satisfying that tendency with just enough visual and auditory stimuli to prevent you from breaking away from your work altogether. The premise, it seems, is that if your monkey mind has a small amount of additional input to play with, you'll be less compelled to break your concentration away from the task at hand.
In practice, I find OmmWriter's approach incredibly effective. In this app, I'm inclined to keep at my writing tasks for longer periods of time, I'm less antsy, and I feel more creative than I do with more conventional apps. I can't say this with any scientific backing, but I think the chimes help induce a deeper, more engaged train of thought than I normally enjoy while working (ask anyone–I'm a notoriously shallow thinker), and I find myself less distracted by thoughts outside of the work at hand.
Where OmmWriter for iPad falls short is in its controls interface. Its minimalist design offers few cues to help you navigate to the settings menu and even fewer to help you figure out what result you're likely to get from tapping any given setting option. The icons are vague, presumably by design, but I'd appreciate a little more guidance through the menus so I can get the app configured the way I like it without excessive guesswork. An app designed to enhance your focus on your work shouldn't require so much mental energy to navigate in the Settings menu. Also problematic: There doesn't appear to be any way to get into the Settings menu when you're hooked up to a keyboard in portrait mode, which is a problem worth fixing soon.
Working with Files in OmmWriter for iPad isn't as easy as it needs to be. In addition to the problems created by the app's weirdly vague control icons (none of which are labeled), OmmWriter lacks a good way to get files on and off the device. You can e-mail files as you create them, or you can use iTunes to move files to and from the iPad. What this app really needs is something like the Dropbox integration found in Clean Writer.
OmmWriter's writing interface, however, is great. Rather than rely on the stock iPad software keyboard, OmmWriter packs its own. It's beautiful and spare, with large buttons that are easy to see without distraction much from your view of the text itself. With that said, it's really better with a hardware keyboard.
As a cross-platform user, I feel compelled to briefly campaign on behalf of Android Honeycomb users here. Because OmmWriter's design appears to owe little to the objects in the iPad SDK, I can't help but think that it would port pretty readily to Android. And since USB-equipped Android tablets pair so nicely with any old keyboard, they're a great choice for tablet users who want need to do a lot of writing. I can only hope the developers at Herraiz Soto & Co decide to take OmmWriter to Android devices next.