MacOS users now can fence themselves off from the Mac Defender malware. Apple released a security update to Mac OS 10.6.7 that detects and deletes the malware that allegedly rode in as a Trojan horse on Google Image files.
Apple offers Security Update 2011-003 to ferret out any trace of the Mac Defender malware or any of its variants (including Mac Guard) and move them to quarantine.
[Read: Mac Defender Primer]
What will be harder to fix is the gaping hole in Mac users' sense of self–where their faith in the concept that "Macs NEVER EVER have security issues" used to be. Another tough task: convincing many Mac users to take the basic privacy and safety precautions that Windows devotees learned in pre-school.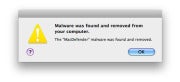 Ironically, the Mac Defender Trojan exploited some Mac users' insecurity about security by tricking those who unwittingly installed it into thinking they had malware–which, of course, they did. It launched pop-ups and links to porn sites to freak out users and get them to hand over a credit card number to buy "virus protection."
On his Macintosh Security blog, Mac expert Derek Currie offers a soothing list of free tools Mac users can enlist to restore their (our) sense of balance in the universe, including ClamXav antivirus protection, FileVault encryption, and how to use the .sparseimage feature in Disk Utility to eliminate the security flaws of DropBox.
His best advice is probably the most obvious: "Don't ever blindly click on web links in e-mail."
How to Install
To get the Snow Leopard update, click "Software Update" under your Apple menu or download it at Apple's support site. It will quit the malware, delete persistent files, and fix any changes the Trojan may have made to config or login settings.
The update also adds a daily malware definitions check to reduce the likelihood that your Mac will get mugged by the next malware to hit the streets. If you attempt to download anything containing a Trojan horse, according to Apple Insider, it will flag the file and tell you to move it to the trash. This feature can be disabled by unchecking a box in your Security Preferences.