At a Glance
Expert's Rating
Pros
Good multimedia capabilities
Responsive touchscreen
Cons
Network speeds are inconsistent
Hardware is a bit dated
Our Verdict
The HTC Trophy is a solid alternative for anyone who doesn't want an iPhone or Android device.
The HTC Trophy ($150 with a new two-year contract) is the first Windows Phone 7 device on Verizon, and it does a pretty good job of showing off what the platform is all about. The Trophy is great for handling multimedia, but the phone feels dated next to other current-generation smartphones.
Solid Design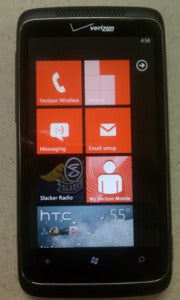 The Trophy is a very well-built phone. Its ergonomic shape allows it to rest comfortably in your hand, and its slim profile makes it easy to slide into your pocket or bag. At 4.67 by 2.42 by 0.47 inches, the Trophy is smaller than many of the "superphones" we have been seeing lately. Regardless, the phone never felt cramped to navigate, and the 3.8-inch capacitive WVGA display was a joy to behold.
Much like HTC's other phones, the Trophy has a minimalist design. The front of the Trophy has the standard Back, Menu, and Search buttons found on all WP7 phones, while the back sports a 5-megapixel camera with flash (more on that later). The volume rocker and charging port reside on the left edge of the device, while the camera key sits on the right. Up on top is where you'll find the power button and the 3.5mm headphone jack.
Software
Microsoft doesn't allow phone makers or carriers to mess with its mobile operating system too much. As such, the Trophy is free from the bloatware that plagues Verizon's Android offerings.
The Trophy runs the latest version of Windows Phone 7, and the OS works well with many of Microsoft's other services. You can view and edit Office documents in the Office Mobile hub, and rack up your gamerscore on the go by signing in with your Xbox Live account. Although I would not want to prepare a budget report in Excel on my phone, having that option available is a nice bonus. The upcoming Mango update looks to add even more functionality; be sure to see our full hands-on with Mango for more information.
Performance
The HTC Trophy is extremely responsive. Scrolling through menus and navigating the device was a breeze. The 1GHz Qualcomm Snapdragon processor keeps the phone speedy and ready to handle whatever you can throw at it. I was able to hammer out a long text message with ease, and the few games I played on the device all ran smoothly.
Reception on the Trophy was excellent, even in places where other Verizon phones struggled to get a signal. Calls that I made on the Trophy sounded clear with no hiss, and the microphone did an admirable job of blocking out extra noises. Data speeds, on the other hand, were all over the place: A Website could take 3 minutes to load with full 3G coverage, and take only 1 minute in an area with poor reception.
Much like the Droid Pro and Droid 2 Global, the HTC Trophy is global-ready and can be used in more than 200 countries.
Multimedia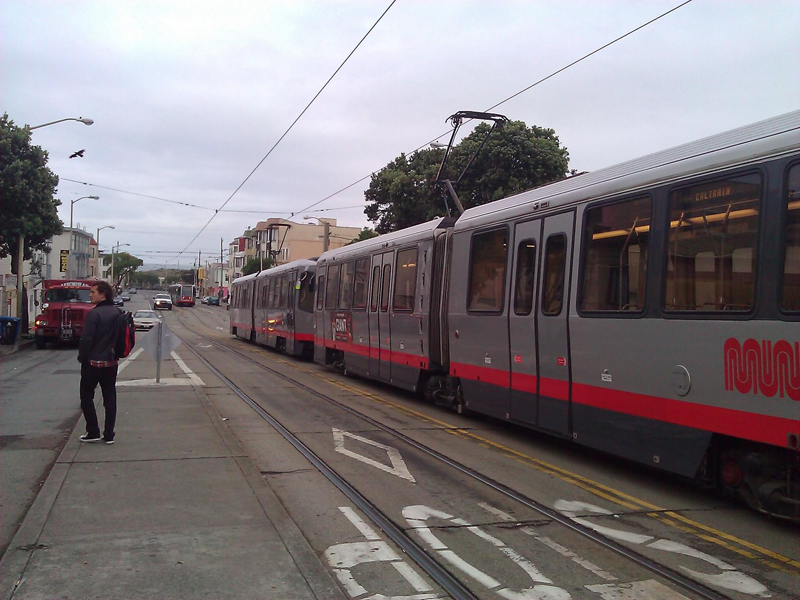 The 5-megapixel camera on the Trophy is nothing to write home about. In my picture-taking trials, colors looked washed out, and photos could have been sharper. Videos fared better when I cranked the recording resolution up to 720p, but were still not as sharp as I would have liked them to be.
Windows Phone 7 seems to have been built with media in mind. All WP7 handsets come preloaded with Xbox Live, Zune, and Netflix apps. The Zune app was designed to be a one-stop shop for movies and music. If you have the Zune desktop client on your PC, you can easily import your own media files onto the phone's 16GB internal memory. Unfortunately, movie playback in the Netflix app was sorely lacking–even with great reception, videos appeared heavily pixelated. If you plan on watching a lot of movies on the Trophy, I recommend either loading your own or buying them off the Zune Marketplace to avoid having to deal with network issues.
Conclusion
As much as I like the Trophy, it is difficult to recommend mainly due to the fact that nothing about the phone makes it stand out from the competition. Even though it is a good WP7 phone, in comparison with other smartphones currently available the Trophy is lacking where it counts. If you bought a Zune, own an Xbox 360, or are married to Office, the Trophy will fit into your life just fine. For those who don't like Bing or don't have a Live account, I suggest skipping the Trophy and looking at Verizon's other offerings, such as the HTC ThunderBolt or the Samsung Charge.
Note: When you purchase something after clicking links in our articles, we may earn a small commission. Read our affiliate link policy for more details.