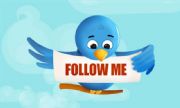 There's a new way to get your customers to follow you: Add a Twitter "Follow" button to your Website. On Tuesday Twitter announced a new Follow button, similar to the "Tweet" button, for third-parties to add to their Websites.
The new Follow button lets Twitter users instantly follow a Twitter account without having to leave the site they're on. This is particularly convenient, because users no longer have to search Twitter to find the account they're looking to follow (which can be a hassle). The button is similar to Twitter's Tweet button, which lets users tweet specific content with their own followers.
The Follow button is an excellent tool for small businesses, especially those who are looking to create a bigger online presence. The only option prior to the introduction of the Follow button was for businesses to direct users to their Twitter page via text or image link, and hope the user would click the Follow button over on the microblogging website itself.
To add a Follow button to your Website, you first need to set it up. You can set it up by going to Twitter's Follow button Web page and entering in your user name, what color background the button will be against, and whether or not you want the button to show your accounts number of followers. You'll then get a code to paste in your Website, which looks like this:

That's just an image, because the Follow button requires javascript support (and apparently PCWorld's blogging tool doesn't have that). The Follow button supports nine different languages, including English, Japanese, and Italian.
According to the Twitter blog post, "For publishers and brands, adding the Follow Button to your Website and using Twitter to stay connected with your audience is a powerful combination. People who follow your account are much more likely to retweet and engage with your Tweets, and to repeatedly visit your website."
Note: When you purchase something after clicking links in our articles, we may earn a small commission. Read our affiliate link policy for more details.