In a matter of hours or minutes from this posting, the Endeavour space shuttle will re-enter the Earth's atmosphere and touch down on Merritt Island at NASA's Kennedy Space Center (KSC). If all goes as planned, the shuttle will land at 2:32 am EDT on June 1 (this could have been delayed until 4:11 am if there were bad weather). [Editor's note: See the update below.]
NASA gave Endeavour the "Go" for Deorbit. At 1:29 am EDT, the shuttle's two orbital Maneuvering System engines fired to set the shuttle on its course for return to KSC. According to NASA, the engines slowed Endeavour by 201 miles per hour. At 2:03 am, EDT there is no turning back, because at this time the shuttle will begin to enter the atmosphere; peak heating begins at around 2:12 am (and ends at about 2:22 am), and at 2:16 am the shuttle will begin its first "roll reversal" maneuver to slow itself down. The Endeavour will slow to subsonic speeds at around 2:31 am, and then it is expected to touch down at precisely 2:35:23 a.m.
This will mark the last flight of the Endeavour, so you don't want to miss any of it. You can get the latest news on the Endeavour's final descent at NASA. You can also track the descent (and ascent of the next shuttle launch) on Google Earth, just visit NASA to get the instructions.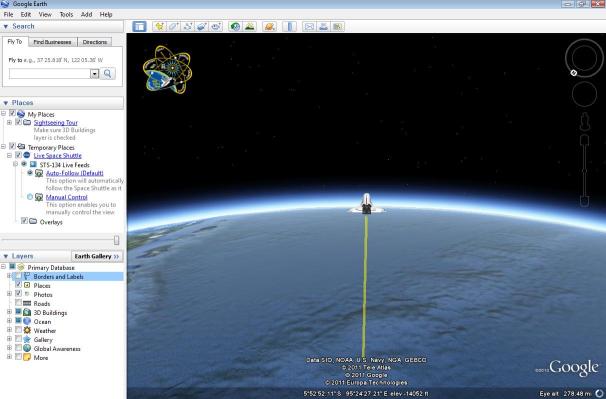 In other news, Space Shuttle Atlantis is planned to launch on July 8th. Atlantis is currently on its move from KSCs Vehicle Assembly Building to Launch Pad 39A. It's quite a night for NASA who is taking one shuttle down and putting another up.
Update: Shuttle Endeavour successfully landed with the main gear touching down at 2:35:36 am EDT, the nose gear at 2:35:04, and wheels stop at 2:35:36. This brings Endeavour's flight time to 299 days in space, 4,671 Earth orbits, and a whopping 122,883,151 miles traveled. Congratulations to NASA and the Endeavour crew for another successful flight!
[NASA]
Follow James Mulroy on Twitter and on StumbleUpon to get the latest in microbe, dinosaur, and death ray news.
Like this? You might also enjoy…
Get your GeekTech on: Twitter – Facebook – RSS | Tip us off