T-Mobile has announced a June 15 release date for the HTC Sensation 4G, which in terms of raw tech specs will be one of the most powerful Android smartphones available.
The phone will cost $199, after a $50 mail-in rebate, with a two-year contract.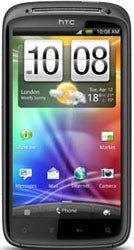 HTC's Sensation has a 1.2 GHz dual-core processor from Qualcomm, a 4.3-inch qHD display with 940-by-560 resolution, 768 MB of RAM, an 8-megapixel rear camera with 1080p video capture and a front-facing VGA camera. Spec-wise, the Sensation's main weakness is storage; there's only 1 GB on-board, plus a preloaded 8 GB microSD card. The phone has an aluminum unibody design, measures 0.4 inches thick and weighs 5.2 ounces.
For software, the Sensation runs Android 2.3 with HTC's Sense user interface on top. Besides the Android features, the Sensation adds an instant capture camera, which supposedly eliminates lag when pressing the shutter button, and an active lock screen that can show e-mails, Facebook status updates and other info.
HTC is pitching this phone as a multimedia powerhouse, and it comes with two apps for video: HTC Watch provides movies and TV shows for purchase or rent, and T-Mobile TV provides live and on-demand television shows for free.
On T-Mobile, the HTC Sensation will rival LG's T-Mobile G2x, which was well-received in PCWorld's review. Both phones have dual-core processors and 8-megapixel cameras, but the Sensation has a larger display in an only slightly larger body.
If you're not tied to any particular carrier, you may also want to consider waiting for Samsung's Galaxy S II to arrive in the United States. It's got similar specs to the HTC Sensation — both have a 1.2 GHz dual-core processors and 4.3-inch screens — but more on-board storage (16 GB or 32 GB) and a slimmer 0.3-inch frame. The Galaxy S II is already quite popular overseas, but doesn't yet have a U.S. release date.
T-Mobile is not taking preorders for the HTC Sensation, at least for now. Check out the product page for more details.
Follow Jared on Facebook and Twitter for even more tech news and commentary.