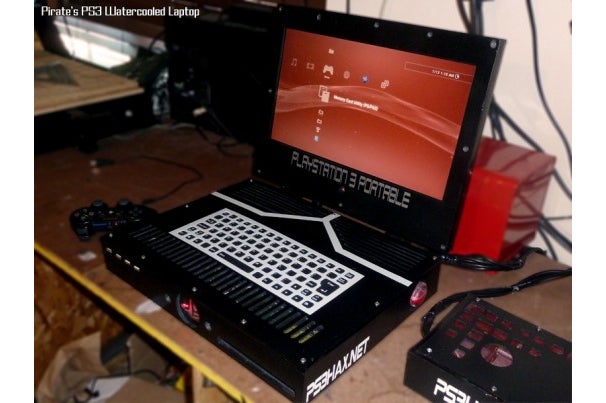 The PlayStation Story might not be back up yet, but that does not mean you can't earn trophies on the go. A user nicknamed "Pirate" over at the PS3 Hax Network has built a water cooled portable PS3 which–well, is called "Pirate's PS3 Water-cooled Portable/Laptop."
The thing's pretty sweet with an aluminum frame with sintra/komatex carved by a CNC machine. Of course some things are a little different like Blu-Rays have to be loaded in upside down, the power supply unit is now external, and the whole heat sink and fan array has been swapped out for water-cooling. But at least it 3.5-inches thin and it looks like a cool attaché case—minus the handle.
The whole thing took Pirate about 3 years to complete starting in November 6th, 2008 and wrapping up just last week on May 24th. It's also up for sale on eBay ($2,000 since our last F5) and you can get the sales pitch walk around video below.
[PS3 Hax Network via Engadget]
Like this? You might also enjoy…
Get your GeekTech on: Twitter – Facebook – RSS | Tip us off