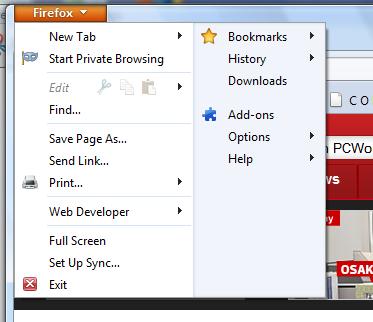 Reader Hal wrote in with this question:
"Everyone talks about the new Firefox button (the orange one in the upper-left corner) to fix problems with Firefox 4. I've downloaded Firefox 4 and there is NO orange button. How do I find this 'magic' Firefox button?"
For starters, Hal, the button in question has no "magical" properties, nor is it there to "fix problems." It's merely a substitute for the more traditional menu bar (the one that shows File, Edit, View, etc.). I'm not sure why it didn't appear for some users (you're not the first to ask this question), but it's easy to switch over to it. Here's how:
1. Start Firefox.
2. Click View, Toolbars, Menu Bar.
Presto! Your menu bar disappears; in its place, Firefox's new orange all-in-one menu button. For anyone accustomed to traditional menus, this may seem a little awkward at first. Most of the same functions are available within the new menu, but not always with the same names or headings.
For example, what if you decide you want to go back to the Menu Bar? When you click the orange button, you'll see there's no View option–so how are you supposed to toggle the Menu Bar back on? No problem: just mouse over the Options sub-menu and you'll find it there.
The plus side to using the orange button is that it eliminates an extra row's worth of stuff, giving you a bit of extra viewing space in the actual browser window. The downside is the slight learning curve. As I said, if you're a fan of old-school menus, you may not like this new arrangement. Thankfully, as you now know, it's quick and easy to hop back and forth between the two settings.
Contributing Editor Rick Broida writes about business and consumer technology. Ask for help with your PC hassles at hasslefree@pcworld.com, or try the treasure trove of helpful folks in the PC World Community Forums.