The Android tablet race is about to get a dashing new contender.
Samsung's Galaxy Tab 10.1 will officially launch next week, the company announced on Thursday. The Galaxy Tab will go on sale in New York City on June 8, with a limited number of units available at the Best Buy in Union Square. The device will reach stores nationwide nine days later, on June 17th.
So what's Samsung's new Galaxy Tab all about, and is it right for you? Take a quick scan of the high points — and the low ones — and see what you think.
[See also: Samsung's New Galaxy Tab 10.1 and 8.9 Tablets: A Visual Tour]
Samsung Galaxy Tab 10.1: The Design
Samsung's Galaxy Tab 10.1 design has certainly earned a lot of attention. The company originally unveiled the device in February — then, after seeing Apple's iPad 2, decided to pull back the product and go back to square one.
The new Galaxy Tab is billed as the world's thinnest tablet, beating out Apple's offering by a hair: The 10.1 Tab is 8.6 millimeters thick compared to the iPad 2's 8.8-millimeter size. The Galaxy Tab is also slightly lighter, at 565 grams compared to the iPad 2's 601-gram weight.
Look, when it comes down to it, the differences are pretty — shall we say — slim. The point is this: The Galaxy Tab is really freakin' thin. Capisce?
Samsung Galaxy Tab 10.1: The Hardware
Size aside, the Samsung Galaxy Tab 10.1 rocks a Nvidia Tegra 2 1GHz dual-core processor along with 1GB of RAM. It has a 3MP camera on the back and a 2MP camera on the front. The Tab can record video at 720p with 30 frames per second.
The new Tab's 10.1-inch screen has a resolution of 1280-by-800 pixels. Its battery, a 7000 mAh unit, is said to be good for nine hours of continuous use on a single charge.
Samsung Galaxy Tab 10.1: The Software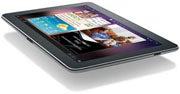 The Galaxy Tab 10.1 ships with Android 3.1, the latest version of Google's Honeycomb OS. In an interesting twist, Samsung is shipping the tablets with Google's stock Android software — but plans to update them at some point "in the near future" to add in its proprietary TouchWiz UI. Depending on your perspective, this may be a good or a bad thing.
Like most Android devices, the Galaxy Tab 10.1 fully supports playback of Adobe Flash content.
Samsung Galaxy Tab 10.1: The Storage
Samsung's Galaxy Tab 10.1 comes in both 16GB and 32GB models. Neither model supports external storage via microSD, according to a Samsung representative.
Samsung Galaxy Tab 10.1: The Pricing
Samsung's 16GB Wi-Fi Galaxy Tab 10.1 will cost $499. The 32GB Wi-Fi model will cost $599. You can place a pre-order at any Best Buy store beginning June 8 (only the New York City Union Square store will have them in-stock on that day). Starting June 17, the tablets will be available nationwide at Best Buy, Fry's, Amazon, Micro Center, Tiger Direct, and New Egg. Sprint will also be selling the Wi-Fi tablets later this summer.
If Wi-Fi doesn't cut it for you, Verizon Wireless will soon offer 4G versions of the Galaxy Tab 10.1 as well. The 16GB 4G model will cost $529.99 with a two-year contract; the 32GB version will cost $629.99 with a two-year contract. Verizon is currently accepting pre-orders but has yet to announce when the 4G models will ship; a spokesperson tells me a date should be announced sometime "in the coming weeks."
JR Raphael is a PCWorld contributing editor and the author of the Android Power blog. You can find him on both Facebook, Twitter, or