The rumored pricing of Motorola's Xoom tablet at $700 has triggered the expected reaction among tech watchers: Decide whether it's better than the iPad based on specs.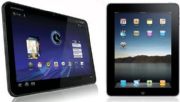 Don't fall into that trap.
Here's what we know so far about the Xoom: Running Android 3.0, the Xoom has a dual core Tegra 2 processor from Nvidia, a 10.1-inch 1280-by-600 resolution screen, 1 GB of RAM, 32 GB of storage with a microSD card slot, front- and rear-facing cameras (2 megapixels and 5 megapixels, respectively), 1080p video playback, HDMI and USB ports and support for Verizon's 4G network.
An anonymous source tells Engadget that the Xoom will launch on February 17 priced at $700 at Best Buy.
Now, it's tempting to stack up the Xoom against Apple's iPad, and you can do this in a bunch of ways. Put the Xoom next to Apple's entry-level $500 iPad and Motorola looks like a failure. Compare it to the 3G-equipped, 32 GB iPad at $729 and the tables tilt in Motorola's favor.
But there are a few reasons to avoid these spec comparisons, at least for now:
My biggest concern with the Xoom is that we've barely seen it in action. The tablet was only running canned video demos on the show floor of CES, so it was impossible to see whether Android 3.0 is as slick as Google claims. A tablet is only as good as its software, and the performance of Android 3.0 on Motorola's Xoom will be more important than any spec.
Speaking of software, the iPad has more than 50,000 apps specifically for the tablet. The Xoom will have few, if any, at launch. While Apple had to start from scratch as well, it also had the only tablet-optimized operating system on the market for nearly a year. Developers will soon get to choose from Android, WebOS, and Blackberry Playbook, and I'm guessing that none will see the same early growth as the iPad.
That's not to say spec comparisons are completely worthless, but keep in mind that Apple will probably launch a second-generation iPad in a few months, rendering any current comparisons meaningless to anyone who isn't predisposed towards a single operating system.
Comparing specs is fun. It appeals to our geeky tendency to compartmentalize everything into tiny bits of logic — and PC World has done its fair share — but there's a reason Apple doesn't talk about specs in its iPad commercials: They just don't tell the whole story.