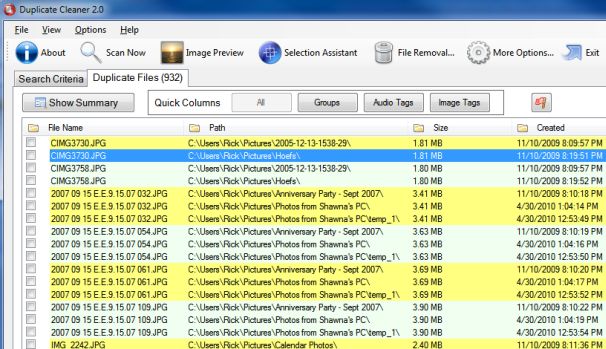 A couple months back I wrote about Fast Duplicate File Finder, a free utility that scans selected folders on your hard drive, locates any duplicate files, then gives you the option of removing them.
Reader Steve just wrote in to tell me about a similar program he likes even better. It's DigitalVolcano's free Duplicate Cleaner 2.0, though I'm not sure I agree it's the better of the two. (Be sure to click the Download link on the left side of the page, not the big inviting Download button in the main pane.)
I do think Duplicate Cleaner has a friendlier interface (though the way it presents its "found" duplicates is a little confusing, which is why I went into the settings and chose a different background color for one of the groups).
It also seems to have more parameters for finding duplicates and choosing what to do with them after they've been found.
However, FDFF does a better job showing previews of duplicate images (so you can make sure they are indeed duplicates). Duplicate Cleaner forces you to open a selected image in a separate window, which is a minor hassle.
Ultimately, I just wanted to point you to another program that can do the very important, very useful job of finding and eliminating duplicates. It's up to you to decide which one you like best.
One final note: always exercise extreme caution when using any program like this, making sure to have a current backup available just in case. Another reader recently informed me that he made a mistake while using Fast Duplicate File Finder, and lost a big chunk of his photo library.