At a Glance
Expert's Rating
Pros
Reasonably priced
Tremendous future potential
Massive launch game line-up
Cons
Accuracy problems
Incomplete or missing features
Inconsistent interface
Our Verdict
Intrepid but flawed, Microsoft's Kinect motion-sensor for Xbox 360 offers true controller-free gaming at a reasonable price, but suffers from serious accuracy and tracking issues.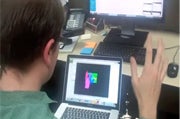 We follow the latest emerging trends in tech here at PCWorld, so we've been hooked on the Microsoft Kinect hacking scene. We decided to try some projects for ourselves and show you how easy it is to get started with Kinect hacks.
The Kinect, as you probably already know, is a motion- and depth-sensing 3D camera that lets you use your own body as a controller for compatible Xbox 360 games. Plenty of games for the Xbox 360 already work with the device, but hackers have been exploring new uses for the $150 peripheral.
For instance, the Kinect uses its two cameras to make a 3D depth map of whatever you point it at it, and hackers have managed to port that data over to the PC, where they can play around with it. Hackers have also used the Kinect's infrared mode to turn it into a night-vision camera. And a few hacks have even employed the small motor in the Kinect's base to allow moving the camera by remote control. (See "Top 15 Kinect Hacks (So Far)" for more ideas.)
The really impressive thing about the Kinect hacking scene, however, isn't the diversity of the hacks–it's the ease with which even the non-tech-oriented can plug a Kinect into a computer and start playing around.
We recently tried three Kinect hacks and created a short video showing the kind of fun we had.
Hack Details
After sitting down with a Kinect for an afternoon, we were able to get the following hacks up and running in just 2 hours.
1. Kinect 3D Viewer
The first hack we set up was the Kinect 3D Viewer, a freeware program available on the new Apple App Store. It's pretty bare-bones, but it's also dead simple to use. Just install the app and plug in your Kinect to have fun with mapping RGB values onto the depth data that the Kinect gathers. The viewer doesn't have a lot of versatility, but it is a great little tech demo for showing off the Kinect's ability to take a 3D reading of whatever you point it at.
2. Processing Demos
We then moved on to the bread and butter of Kinect hacks: Processing. A programming language for visual projects, Processing has also been a hotbed for Kinect hacking. Like all programming, the projects can get very complicated and take a fair bit of time.
Even if you're not a programmer, though, you can find several fun and easy demos that are quick to open and run using Processing. We were able to get some demos going in about 10 minutes using Daniel Shiffman's great tutorial. It lets you create a 3D map of your room or control the Kinect's motorized base remotely.
3. FAAST
The Flexible Action and Articulated Skeleton Toolkit, or FAAST, is a terrific free project from USC's Institute for Creative Technologies that tracks your arms and legs using the Kinect. You then map keyboard combinations onto various physical poses. This setup has several uses; the FAAST project Webpage offers an excellent tutorial that will get you started.
We decided to map some of our motions onto the proper keys to play Valve's popular first-person puzzle game Portal. Although installation is easy enough, the mapping process can take a bit of trial and error to find a comfortable way to translate your motion into inputs. The results, however, give you a fun new way to play any game that you can run on your computer, such as allowing you to punch to shoot a portal or to jump up and down to have your character do the same.
Background
When Microsoft released its Kinect camera for the Xbox 360 late last year, the product received fairly mixed reviews. The initial Kinect-compatible games for the Xbox 360 didn't seem to live up to the potential of the device.
While the Kinect sold fairly well during its launch period, the excitement around the camera soon moved away from the game console and over to the computer. This started when a group of hackers managed, in under a week, to get the Microsoft peripheral working on a Windows 7 PC. News of that open-source hack soon spread around the Internet, and the hacking scene boomed, producing ingenious projects such as a hack in which a robot mimics your own motions.
Going Forward
Although Microsoft opposed Kinect hacks in the beginning, the popularity of the scene that has sprung up around the device (or perhaps just the good graces of some of the folks in Redmond) led Microsoft to reverse itself.
The company is expected to launch official drivers for the Kinect later this year. There's no telling what people will start doing with their Kinects when Microsoft officially supports attaching the Kinect to PCs, and when developers begin to create software that utilizes the Kinect–without fear of reprisals from Microsoft.