The next generation of iPhones and iPads will be able to replace your wallet, Bloomberg reports.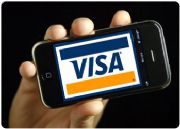 Richard Doherty, director of the consulting firm Envisioneering Group, says Apple will introduce services that let customers use their phone or tablet to make purchases.
How will Apple do this? By embedding near field communication chips into upcoming iPhones on the AT&T network and iPads. Doherty says both products are "likely to be introduced this year," and cites unnamed engineers working on the hardware for the project.
While this may be "huge" (as Silicon Alley Insider's Pascal-Emmanuel Gobry puts it), it's not a surprise — we knew Apple was planning a serious rendezvous with NFC technology back in May.
Of course, iOS devices aren't the only mobile devices that will be getting NFC this year. Google's outgoing chief executive, Eric Schmidt, said in November that the newest Android devices will also support NFC.
So what does this mean for consumers? Well, NFC technology means that your phone will pretty much be able to replace your wallet. Instead of carrying around credit cards, you'll just be able to tap your phone to pay for items. If this seems a bit, um, dangerous, it's not — it's supposedly provides a greater level of authentication than does a credit card, and your card "number" is kept safely encrypted inside your phone.
There are other uses for NFC, of course — it will let you retrieve information by "checking in" with sensors around the city, and could work as a hotel key. When Schmidt introduced NFC to the Android crowd, he mentioned that "People don't understand how much more powerful these devices are going to be."
Silicon Alley Insider suggests that, not only will payment be painless and simple, but Apple will be able to target iAds using customer's purchase histories because the company will have that information.
And now it's starting to sound a little creepy.
Don't get me wrong. The power of NFC technology, and its ability to turn your smartphone into everything under the sun, is pretty cool — in theory. But do you really want to be carrying everything under the sun — your wallet, your hotel key, your phone, your private information — around with you in one neat little package? One of the best things about losing your credit card (I know, hard to imagine there are "best things" about that) is that if you haven't lost your cellphone, then you can immediately call and cancel the card.
Sure, Apple has its remote wipe function, but you have to get to a computer, and fast. As for the painless payment process, well, there's something to be said for paying in cash. It's not necessarily a good thing for people to be able to pay for something in two seconds flat, without ever really recognizing that they're making a transaction.
Follow Sarah on Twitter (@geeklil) or on Facebook