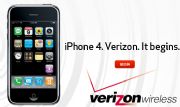 Data hogs rejoice: Verizon Wireless won't curb iPhone 4 use with bandwidth caps, at least if you're one of the early adopters.
For now, Verizon will charge iPhone 4 users $30 per month for unlimited data, same as its other smartphones. The Wall Street Journal broke the news ahead of Verizon's conference call with investors.
But the Journal updated its blog post later in the day to say the offer of unlimited bandwidth is only temporary. In the "not too distant future," according to the story, Verizon will follow AT&T's move to tiered data as anticipated, iPhone and all.
AT&T discontinued its $30 unlimited data plan last June, replacing it with a choice of 2 GB for $25 per month or 200 MB for $15 per month. Verizon is temporarily keeping its unlimited data package around in hopes of enticing irate AT&T customers. But eventually, the carrier will have to put iPhone users on a leash to leave room for all its data-hogging Androids.
Expect the data discrepancy to be a talking point when Verizon starts selling the iPhone on February 10. (For now, Verizon's all about fawning.)
No word on how much Verizon will charge for data after it switches to tiered pricing, but here's one other detail picked up by CNet: The carrier will soon discontinue the $15 per month, 150 MB plan it started offering smartphone users in October. I bet we'll see a new budget tier from Verizon once the carrier eliminates its unlimited plan as well.
If you want an iPhone and are on the fence about which carrier to choose, check out our guide on the difference between Verizon's and AT&T's iPhones.