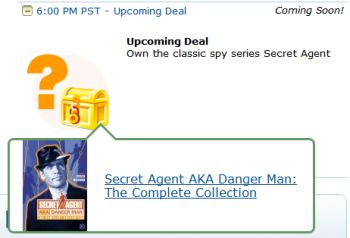 As a self-proclaimed cheapskate, I'm a big fan of Amazon's Gold Box. It features a different "spotlight" deal every day (today's is any complete season of "The Simpsons" on DVD for just $13.99), plus various Lightning Deals offered throughout the day.
The latter are kept fairly secret (Amazon shows only a terse description) until they go live at their designated times, but the Shopping Assistant add-on for Firefox and Chrome shows you a preview of each upcoming Lightning Deal.
All you do is click the plus sign next to any entry marked Upcoming Deal, then mouse over the little gold treasure-chest. You'll see a preview image of the product and a link to its Amazon page. (Keep in mind, though, that the price you see there is the non-sale price. To find out the sale price, you'll have to wait until the deal goes live.) It's a neat little hack for sneaking an early peek at Amazon's deals.
That's not Shopping Assistant's only trick. When you search for a product on a selected site (Buy.com, Newegg, etc.), it provides similar items from other sites (including Ebay and Walmart), thus allowing for quick price-comparisons. It also links you to a price-history chart (though only for Amazon), which is helpful in determining if the product you're after has ever been cheaper–or might be again.
Definitely a nice little tool for bargain hunters!