If you've ever wanted to wrestle your phone number away from the carriers, now's your chance.
Google has just announced the availability of number porting into its Google Voice phone service. In a nutshell, that means you can take your existing mobile phone number and reassign it directly to Google — then use Google Voice to manage all of your incoming calls. It's a big change; up until now, your only option for using Google Voice was to get a brand new number assigned by the service.
(If the very notion of Google Voice itself is new to you, by the way, click over to "Google Voice: Your Guide to Getting Started." It'll give you a quick primer on what Google Voice is all about and how it works.)
So — what's involved in porting a number into Google Voice, and is it worth doing? Here are some pros and cons to help you decide.
Google Voice Number-Porting Pro: You Control Your Number
Once you've ported your phone number into Google Voice, you have full control over where your number goes — and you can change it anytime you want. You could have the number ring your work phone during the day and your cell phone at night; you could even have it ring three different phones at once so you can grab whichever is most convenient. And if you move or change mobile providers in the future, all you have to do is log in to your Google Voice account and update the forwarding info there; you won't have to mess with the carriers at all, and no one else will even know anything happened.
Google Voice Number-Porting Con: The Process Can Be Messy
Porting an existing number into Google Voice seems simple, but the process can quickly turn complicated. The reason: Once you port your existing mobile number into Google Voice, your current mobile service plan will be cancelled. You'll have to call your carrier and get it to restart your service and assign a new number to your phone (even though you won't be giving that number out, it still has to exist — otherwise, your phone won't work and Google Voice won't have anywhere to actually forward your calls).
Google has some tips on making the process as smooth as possible, but you should be ready for a hassle. As Wired's David Kravets discovered, mobile carriers aren't always equipped (translation: competent) at handling this type of request, and — unless you're planning to cancel your current service plan and switch carriers right now anyway — you may be in for a bumpy ride.
Google Voice Number-Porting Pro: Free Calls and Texting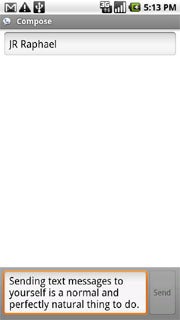 Once your primary phone number is connected to Google Voice, you can use the service to place unlimited calls that'll come from your number — without having to actually use your cell phone. By utilizing the Google Voice website or Google Voice Chrome browser extension, you can have the service place a call to any U.S. number and route it to a landline or VOIP line for you to pick up (you can even route it directly into Gmail and make/receive calls there). The person on the other line will still see the call as coming from your number, and you won't have to use your cell phone's minutes to talk.
Putting your primary number on Google Voice can also let you say so long to texting plans: If you have an Android phone, iPhone, or BlackBerry, you can send and receive unlimited texts directly through the Google Voice mobile application. You can also use the Google Voice website and Chrome browser extension to accomplish the same thing, which comes in quite handy when you're sitting at a computer during the day.
Google Voice Number-Porting Con: The Process Won't Be Free
While Google Voice itself is free, the porting process isn't. Google charges a one-time $20 fee to port in a number — which in and of itself isn't that bad — but the real cost can come at the hands of your current mobile carrier. Remember how we said that porting your number into Google Voice would cancel your current mobile service? If you're in the middle of a contract with your carrier, that means you'll probably be charged an early termination fee — and those things ain't cheap.
Long story short, plan carefully and act only if you're in between contracts, or okay with paying the price.
Google Voice Number-Porting Pro: You'll Gain Lots of New Features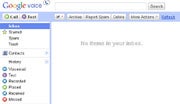 Google Voice offers a lot of compelling features, including a powerful voicemail system — complete with text transcription, intelligent call-handling, and a Gmail-like searchable archive of old messages — as well as the ability to forward calls to multiple phones, switch phones midcall, and perform a slew of other tasks.
You can take advantage of these things with or without porting in your existing number, of course — but if your Google Voice digits aren't the ones people actually dial to reach you, it's not going to do you much good.
Google Voice Number-Porting Con: You'll Be Reliant on Google
I've been using Google Voice for almost two years now, and for the most part, it's quite reliable. On rare occasions, though, the service has gone down for short bursts of time. If your primary phone number is connected to Google Voice and an outage occurs, anyone trying to call you won't be able to get through.
Thus far, this hasn't happened much — but it's always a possibility, and it's a risk you take when committing your primary number to this kind of service.
There's also another odd issue that I experience from time to time: For some reason, certain switchboard-based office phone systems are never able to call my Google Voice number. Dialing my Google Voice number from these offices gives the caller an error recording, and my phone never rings. It's a pretty limited problem — I've encountered only two places from which it happens — but it's definitely annoying, and potentially problematic.
Google Voice Number-Porting Con: You May Get Number Confusion
Using Google Voice as your primary number is easy if you have an Android phone: With Google's free Android app, you just select the option to have all of your outgoing calls come from your Google Voice number. From there, you're home-free; any call you make will automatically show up as coming from your newly ported number.
On other smartphone platforms, it isn't so easy, as Google Voice functionality isn't so tightly integrated into the operating system. You can still place calls through Google Voice, but instead of using your phone's normal dialer function, you'll have to open up the Google Voice app and select the option to place a call from there. Otherwise, people you call will see your "real" mobile number, not your Google Voice number — and that's bound to cause confusion.
Google Voice Number-Porting Pro: You Can Always Undo It
Ultimately, the risk of porting your number into Google Voice isn't too high, if only for one reason: You can always change your mind. I confirmed with a Google spokesperson this evening that users can opt to port their numbers out of Google Voice at any time, if they so choose. So if you ever decide you'd like to take your number back and put it in the hands of a carrier or a VOIP service, you have that right; all you have to do is initiate a port from your new provider.
JR Raphael is a PCWorld contributing editor and the author of the Android Power blog. You can find him on both Facebook and Twitter.