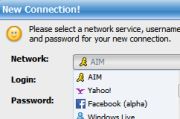 Sure, text messaging is all the rage nowadays, but for my money, the best communication tool is instant messaging. I'm talking real-time, two-way chat.
The problem is, traditional IM-ing requires bloated, overwrought client software that supports only one or two platforms. What if you're, say, an AOL user, and your buddies are all on Yahoo? Or you use GTalk and want to chat with someone on ICQ?
That's why I'm a longtime fan of Meebo, a free, Web-based solution that lets you connect with every IM service known to man: AIM, GTalk, MSN, Yahoo, Facebook, and a couple dozen more I've never even heard of (Fanpop? Playfire? Bebo?).
The beauty of Meebo is there's nothing to install: You just sign in at whatever computer you happen to be using. And if want Meebo on the go, you can grab an app for Android, BlackBerry, or iPhone.
PC World has covered Meebo a few times in the past, but not lately–and I figure there are plenty of users out there who still aren't aware of it. If you're one of them, try this incredibly handy IM tool now–and get ready to kick your resource-hogging IM software to the curb!