Facebook will test a Groupon-like feature called "Buy With Friends" that encourages you to share special offers from e-commerce companies with FB friends for big discounts. The news comes from a Facebook marketing representative speaking at the Inside Social Apps Conference on Tuesday. It is yet another competitive threat to the popular online coupon service Groupon. Last week it was reported Google is also trying to muscle into Groupon's turf.
According to Forbes, Facebook's head of commerce product marketing Deb Liu says that the new feature will allow users to "unlock" deals and then share the (now-unlocked) deals with their Facebook friends. Users will, of course, also be able to share purchases with friends. I assume this means they'll be able to "share" in the Facebook sense of the word–or "post the information to their wall"–not "share" in the kindergarten sense of the word.
So it's not exactly like Groupon, though it is "social buying." Groupon deals "unlock" once a certain number of people have pledged to purchase them, while these Facebook deals can be "unlocked" by one person and then shared with their friends.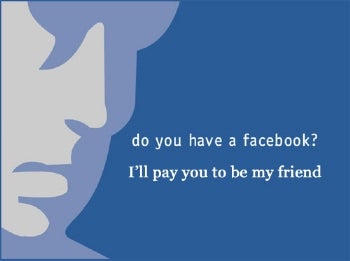 At the moment, it looks like Facebook's "Buy With Friends" program is only for virtual currency. The program uses Facebook Credits, and helps encourage people to purchase in-game goods that their friends have already bought.
Liu said that, in testing, "more than 50 percent of users elected to share a purchase." Liu gave an example of what one might see once their friend has made, and then shared, a purchase: "Your friend has unlocked this deal for you–get 40 percent off this special monster food."
I, for one, would welcome this (slightly) less spammy Facebook newsfeed spam.
VentureBeat's Anthony Ha points out that this could be an excellent feature if integrated with Facebook's recently announced "Facebook Deals." Facebook Deals currently allows businesses to offer incentives and rewards to users who "check-in" on site–if users could also share these deals (or some type of deal) with their friends, it could be an excellent way to bring in more customers.
Follow Sarah on Twitter (@geeklil) or on Facebook